Reading Time:
3
minutes
'We have great stuff' colouring books
Our colouring books 'We have great stuff' volumes one and two are now available on Edinburgh Diamond, the University of Edinburgh's digital service for hosting Diamond Open Access books and journals.
Hosting the books on Edinburgh Diamond
Although we have our books available on the Colouring Books website it is much better to have a more sustainable and long term way of preserving them.
Edinburgh Diamond is a service provided by Edinburgh University Library that supports the publication of academic and student-led Diamond Open Access books and journals. The service, which is free to use by staff and students of the University, provides a hosting solution, a workflow management system, technical support, publishing guidance, DOI registration, ISSN/ISBN allocation, indexing, annual reporting and more!
Rebecca Wojturska, Open Access Publishing Officer at Edinburgh Diamond helped us to prepare what was required to add the books to the service. Unlike other books the colouring books don't have chapters or very much text so it was very straightforward.
If you'd like to discuss a book or journal, contact Rebecca at edinburgh.diamond@ed.ac.uk.
Having the books on Edinburgh Diamond makes them much more discoverable, we want people to find our free books and enjoy them for the mindfulness and relaxation benefits they provide.
Happy colouring!
Jackie Aim (e-learning Content Developer, Information Services)
The colouring books references
Volume 1
Volume 2
About the colouring books
We have great stuff – volume 1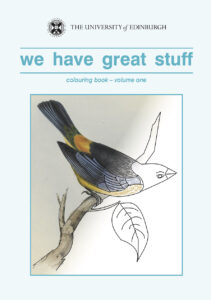 In 2019 the Interactive Content Team worked with the CRC (Centre for Research Collections) to produce a colouring book using stuff from the University collections. Images were selected for workshops which took place during the Festival of Creative Learning with both students and staff attending. The attendees were shown how to use Sketchpad, an online drawing tool for vector images, and then asked to produce an image which had the potential to end up in the book.
We have great stuff – volume 2
The second volume was financed through the student experience grant. It was created and curated by English Language and Literature student Marta Bloch Christiansen. Marta had produced several of the images for book one and enjoyed it so much she was delighted to be able to work on her own book. She held online Teams workshops during the Digital Skills Festivals in May 2021 using images from the CRC collections, she also went out walking and taking photographs of university architectural details, creating a map of university treasures outside and in.
Wellbeing and mindfulness are really important to Marta:
I thoroughly enjoyed working on this project; it gave me peace and mindful creativity. And I have had responses from the 'Why Don't You Write Me'-project that were exactly what we hoped for: they also had mindful moments with the book and were inspired to look up when walking around the beautiful city of Edinburgh. I hope this new platform will help inspire even more people to take mindful creative breaks regularly and perhaps also to make similar books for different universities and cities around the world.
The 'Why don't you write me' project is run through the Chaplaincy as part of their wellbeing support for students and staff.
Book distribution
The physical books were printed to coordinate with students studying or revising for exams. They were distributed to various locations, Main Library, Bristo Square Wellbeing Lounge, Halls of residence and Argyle House. Many of these were then shared further with schools, departments or anyone who requested them. Although there are now no physical copies remaining they are available for download.
Update 8th February 2023:
Please note: these are no longer available.
We have 25 paper copies of volume two that are freely available to UoE staff and students, please email us if you would like them.
N.B. We can send them out via internal mail only or collection from Argyle House.
Share