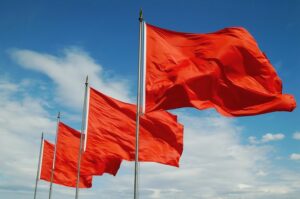 FLAAG –  Families failed by Lothian Audiology Action Group
A new support group has been started by families affected by the NHS Lothian child audiology disaster. Here is a link to the group's Facebook site. Please pass it on to families you think may be affected. The NHS Lothian area includes East Lothian, Edinburgh, Midlothian, Scottish Borders and West Lothian. Any parents of deaf children of 12 and under may be interested to find out if their child has perhaps been affected by this NHS Lothian child audiology situation. The support group exists to share information and provide practical support to as many families as possible.
Red flags are used on the records in audiology and cochlear implant departments to show that progress has not been as good as expected with spoken language development. Red flags also stand for unity and resistance.