A Memorial Plaque for Hamish Henderson 1919-2019
A Memorial Plaque for Hamish Henderson 1919-2019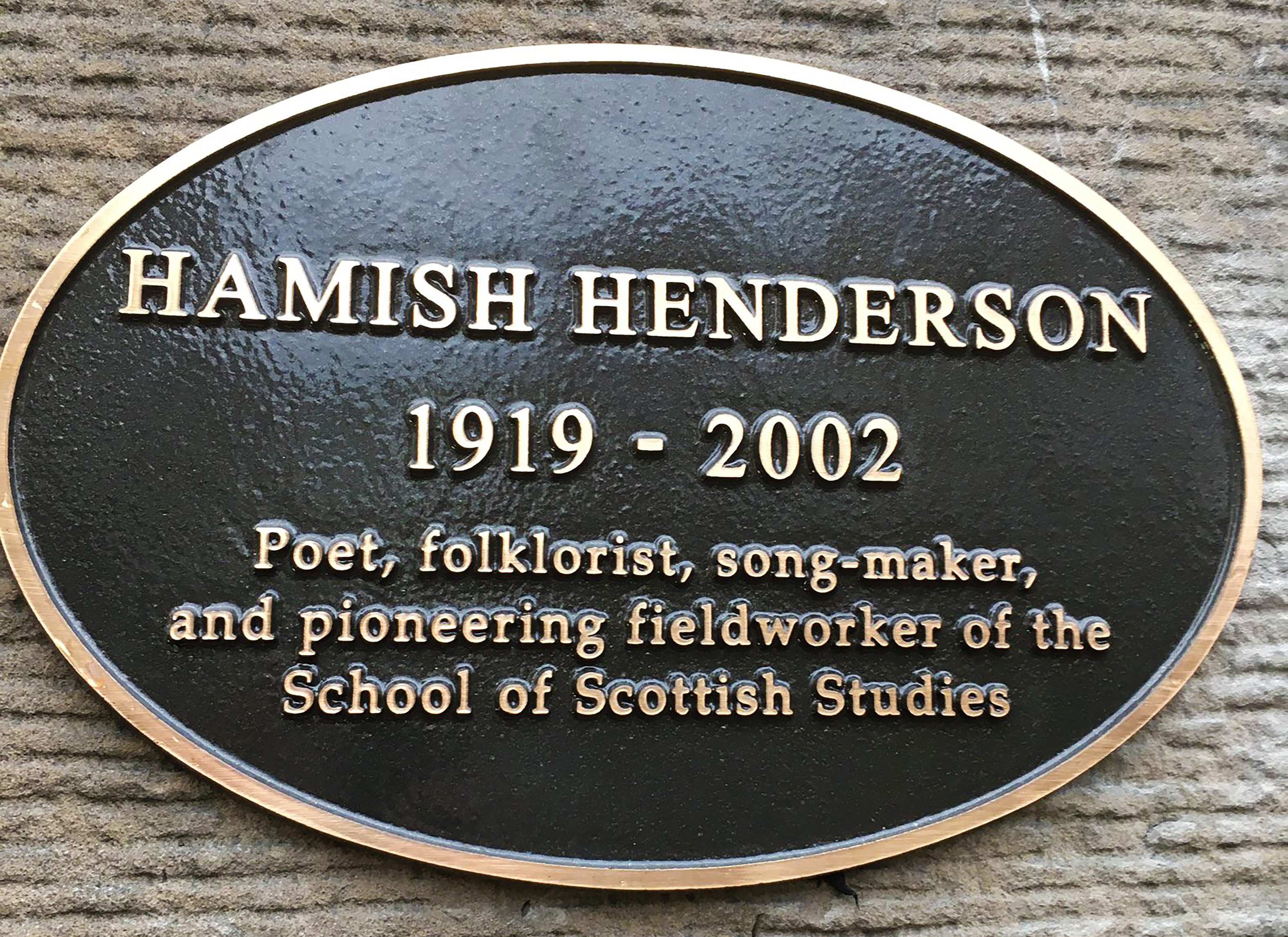 By Sophie Hutton, MSc by Research Scottish Ethnology
A strong legacy
As a School of Scottish Studies graduate and a current MScR in Scottish Ethnology student, I was first introduced to the legacy of Hamish Henderson in 2015 and quickly came to regard him as a multi-faceted individual – a folklorist, songwriter, lecturer and fieldworker. I remember well, one particular presentation I did in my Honours year, where I discussed the ways in which Henderson acted as a catalyst for the folk revival in Scotland.
As a lecturer and research fellow within the School of Scottish Studies, it seems fitting that, on Monday 11th November (Henderson's birth date), a commemorative plaque was unveiled to celebrate the centenary of his birth at the School of Scottish Studies archives.
Despite the rainy weather, spirits were not dampened as a crowd composed of Hamish's relatives, friends, fellow School of Scottish Studies colleagues, students and supporters gathered outside the archives to await the unveiling.
Celebrated anonymity
Following the reveal of the plaque by Kätzel Henderson and daughters Janet and Tina, Dr Neill Martin spoke about Hamish Henderson, his accomplishments, what he was like as a colleague, a teacher and as a person. Dr Martin pointed out the poetic irony of devoting a commemorative plaque to a man whose 'highest ambition' was for his own contributions to our collective, living tradition to remain anonymous, before inviting the cohort to repair to Hamish's 'second office', Sandy Bells pub, for further festivities. After Dr Martin had finished speaking, 'Happy Birthday' was sung, accompanied by Highland Pipes played by Professor Gary West, but what followed was particularly poignant: an impromptu acapella rendition of 'The Freedom Come all Ye', a song written by Hamish Henderson for peace marchers near Dunoon.
Into the archives
At around 2:45 pm, everyone moved inside to the warmth of the School of Scottish Studies Archives, for a small reception. This was an opportunity for friends and colleagues of Hamish's to reunite, reminisce and share stories of both his work and his personal life. Archivists had prepared a selection of Hamish's own field recording for listening and viewing and the attendees were entertained by a musical performance from School of Scottish Studies Traditional Artist in Residence Mike Vass and Professor Gary West on fiddle and small pipes.
In a year in which several different events are to be held marking the centenary of Hamish Henderson, it seems only fitting that a plaque to commemorate him and his achievements be fixed permanently outside the School of Scottish Studies Archives.
Share