Creative Horizon Projects should be high risk/high gain in nature, bringing academics and industry together with the aim of breaking new ground and considering how technology could benefit the creative industries in the future.
Edinburgh College of Art (ECA) Animation was keen to mark its 30th Anniversary in 2020 by celebrating and reimagining its student film archive and finding a way to preserve this unique but increasingly fragile material.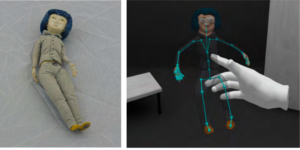 Dr Nichola Dobson and Jared Taylor at ECA worked with creative and digital agency Insurgent Studios Limited (ISL) to develop new processes to capture and digitise legacy student films, including animation footage and original puppets along with newly replicated digital 3D set models.
"Our approach allowed us to present a detailed 3D visualisation of delicate, physical assets from Edinburgh College of Art's wide range of student projects through the medium of VR & AR head mounted display devices. We are delighted to have been able to help to preserve historical assets and make them available for students and researchers in the future." Craig Hunter, Insurgent Studios LTD.
The Insurgent Studios team developed these new digital assets in to both VR and AR experiences that replicate the experience of being in an animation studio, integrating the fragile physical archive material as accessible, movable, interactive digital objects that enable a deeper connection with previous animators' processes and a novel pedagogical method for both on-campus and distance education.
Creative Informatics_Annual Report_2021