The basaltic volcanoes of the Galápagos Islands, Ecuador, have played an iconic role in natural sciences since Charles Darwin's visit on board the HMS Beagle in 1835. Their distinctive morphology, large calderas, and unusual eruptive styles distinguish them from the volcanoes of Hawaii and Iceland. However, their remote location means that Galápagos volcanoes remain largely unstudied.
---
In our 2021 Science Advances paper we document some of the observations that kicked-off my research interests in the Galápagos Islands, back in January 2018. As seismicity rates at Sierra Negra increased prior to the 2018 eruption, we observed repeated episodes of local seismicity triggered by dynamic stress perturbations assoicated with large earthquakes at 1000s of kilometres distance. The rates of triggered earthquakes tracked the evolving unrest state at Sierra Negra, providing us with new understanding of this key seismic phenomenon.
Spectrogram of seismic data recorded at Sierra Negra during arrival of waves resulting from the 2017 Mw 8.2 earthquake near Chiapas, Mexico. Local triggered seismicity at Sierra Negra indicated by energy at frequencies >5Hz 
---
In our 2021 Nature Communications paper a large international team bring together a great dataset to undertake the first detailed multidisciplinary study of an eruption in the Galápagos Islands - the 2018 eruption of Sierra Negra. The centre of the caldera uplifted by nearly 6.5 m over 13 years before the eruption, driving elevated seismicity on an intra-caldera trapdoor fault system. During the two month eruption, the volcano subsided 8.5 m, with intense seismicity including earthquakes >M5. At the end of the eruption, the intra-caldera topography had grown by ~1.5 m, and increment of caldera resurgence rarely seen at basaltic volcanoes.

In the subsequent 2021 paper in JGR - Solid Earth we investigated the detailed relations between deformation and seismicity during the long uplift episodes at Sierra Negra. We found an exponential increase in seismicity rates as a function of total uplift until a critical transition when large system-scale trapdoor faulting initiated. These large earthquakes were associated with aftershock quiesence, and a change in the from of the frequency-size distribution.
---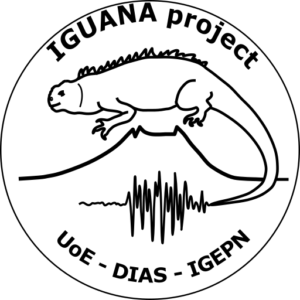 IGUANA is a NERC funded project to 'Investigate Geophysical Unrest At sierra NegrA'. As part of the project, a team from Edinburgh, DIAS, and the IGEPN deployed a network of seismometers at Sierra Negra volcano in April 2018. It captured the first ever local seismic data from an eruption in the Galápagos Islands.
The project was covered by BBC Scotland here
---
Some fieldwork photos!