Special issue of Scottish Affairs – out now
Special issue of Scottish Affairs – out now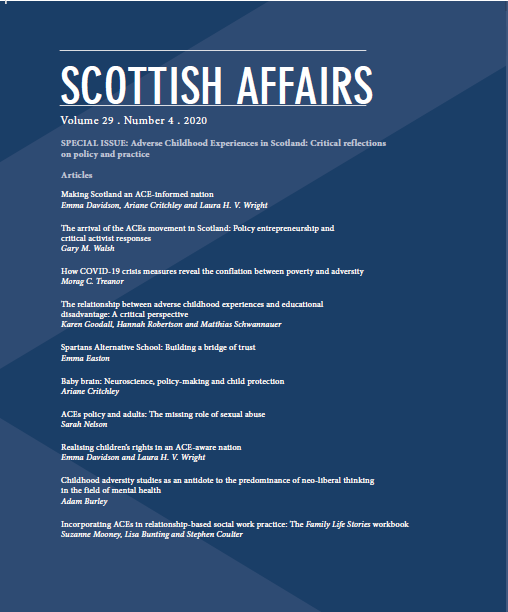 This blog began in 2018 in response to growing interest in ACEs – or Adverse Childhood Experiences in Scotland. As academics, we were fascinated by the speed at which the concept had been popularised, and the extent to which it was shaping policy and practice across social care domains. Through the blog and seminars, we wanted to take a critical lens to the conceptual and practical application of ACEs, exploring why ACEs and associated interventions have proved so popular in the Scottish context.
Drawing from this work, we are pleased to announce a new Special Issue of the journal Scottish Affairs – out now.:
https://www.euppublishing.com/toc/scot/29/4
Just as in this blog, the Special Issue includes contributions from academics and practitioners across different disciplines and practice settings. The collection documents a range of experiences and perspectives on how to define and operationalise Adverse Childhood Experiences, and its relationship to other approaches, such as trauma-informed or relational practice. It also demonstrates the diverse ways ACEs policy is being translated into practice, with such approaches being variously embraced, navigated, adapted and rejected.
Together, the special issue points to an ongoing need for critical engagement in ACE-policy, and a greater commitment to understanding how ACE-policy is being translated into different practice settings. While theoretical debates are important, future research must prioritise the experiences of practitioners, and those with lived experience of adversity. This is more important than ever as we continue to live with COVID and what will inevitably be its dramatic nd long-lasting social and economic consequences.
And of course, we continue to welcome blog posts here, especially from those working within ACE policy and practice. Please get in touch with Emma Davidson (e.c.davidson at ed.ac.uk) if you would like to contribute.
Share