Friday 3rd December, 2.30 – 3.30pm
Chaired by Sandy Forsyth
Through lively dialogue and readings, Jan Sutch Pickard and Sally Foster-Fulton will share poetry, liturgy and prayers which they have written, and from other Wild Goose publications. Neither too bleak nor too cosy, these 'midwinter words' should be honest and down-to-earth, reflecting the mystery of Advent and Christmas, and uncompromising hope.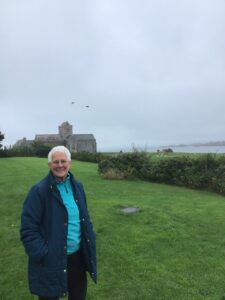 Jan Sutch Pickard is a member of the Iona Community, a former Warden of Iona Abbey, a storyteller, liturgist and Methodist lay preacher. She has twice served as a peace monitor with the Ecumenical Accompaniment Programme in Palestine and Israel. Her other books include Out of Iona, A Pocket Full of Crumbs, Walking Through Advent and Sing But Keep On Walking. She spent three months as a volunteer on the West Bank, in the Occupied Palestinian Territories, and is still working on stories heard and lived through there. 
Sally Foster-Fulton is head of Christian Aid Scotland and an ordained Church of Scotland minister. Originally from South Carolina in the USA, Sally studied at Columbia Theological Seminary and Glasgow University. She was ordained in 1999 and served as Associate minister of Dunblane Cathedral from 2007 to 2016. She also served as convener of the Church of Scotland's Church and Society Council from 2012-2016. 
The Drummond Trust is pleased to sponsor this event. In existence since the 1850s, the Trust makes available financial grants to assist with the publication of books of 'sound Christian doctrine and evangelical purpose'. It has supported Wild Goose Publications for many years.