During the festival the Rainy Hall will be home to our very own bookshop and cafe.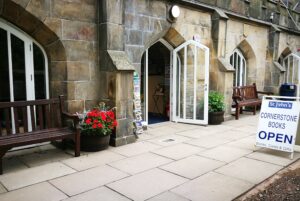 The bookshop will be run by Edinburgh's own Cornerstone Bookshop.  During the weekend they will have copies of all of the authors' books for purchase and signing.
Find out more about Cornerstone
The cafe will be provided for the weekend by the Grassmarket Community Project. Come and enjoy hot food, sandwiches, teas, coffees and cake in our beautiful hall in between events.
Opening times;
Friday:     12pm – 5pm
Saturday: 9.30am – 5pm
Sunday:   12 – 5pm