Sunday 4th December, 1.30 – 2.30
Poets Christine De Luca and Lizzie Smith join theologian- writers Ed Newell and David Jasper to discuss the secrets of the Sea.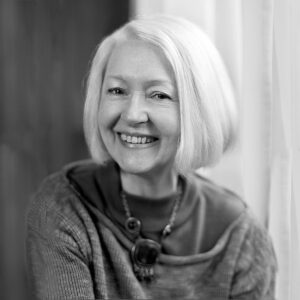 Christine De Luca writes in English and Shetlandic, her mother tongue.  She has had seven poetry collections published, most recently Veeve (Mariscat Press), and five bi-lingual volumes (French, Italian, Icelandic, Norwegian and English).  She was Edinburgh's Makar for 2014-2017.
She has also collaborated with musicians and artists from Shetland and beyond: in Another Time, Another Place (Scottish Gallery) she responded to the work of artist Victoria Crowe.
She has also written and translated stories for children and recently completed a second novel.
She is a member of Edinburgh's long-standing Shore Poets and of Hansel Cooperative Press, a small publisher based in Orkney and Shetland.
Lzzie Smith: Scottish wild swimmer, singer, poet, and mother. Lizzie's first poetry collection Mermaid on Legs came out with Indigo Dreams in 2020.
Born in Scotland, she was brought up by the seaside in St Andrews. Going on to Cambridge University to study literature, she then ended up working in Japan, Switzerland, and England. Along the way she has sung some very high notes, climbed several scary mountains and diced with death, diving in Thailand.
She now lives in Edinburgh with her husband, two children and a dog. As well as being a writer, she is a teacher of English literature of 20 years standing.
Edmund Newell is a writer, speaker, and Anglican priest and Principal of the educational foundation, Cumberland Lodge, Windsor. He was formerly Canon Chancellor of St Paul's Cathedral and founding Director of St Paul's Institute; Sub-Dean of Christ Church, Oxford; and a Research Fellow in Economic History at Nuffield College, Oxford. Edmund writes and speaks on a range of issues. Among his publications, he is co-author of What Can One Person Do?, a Christian response to the Millennium Development Goals, and Ethics in Investment Banking. His latest book, The Sacramental Sea: A spiritual voyage through Christian history, was published in May 2019.