Friday 3rd December, 7 – 8.15pm
Best-selling author Robert Harris will discuss recent publications (such as 
Conclave
, 
The Second Sleep
, and 
V2
) as well as some of his other bestsellers (such as 
Fatherland
, 
Enigma
 and 
the Cicero 
trilogy). Harris's craft as a writer – who brings history to life – and his skilled portrayals of power, religion and politics, will be considered in conversation with local writer and festival organiser Lee Randall.
Please note that Robert Harris will be live on screen for this event and not in person.
Full price £10 Book here
Unwaged / student £5 Book here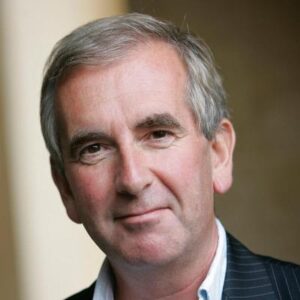 Robert Harris is the author of fourteen bestselling novels: the Cicero Trilogy – Imperium, Lustrum and Dictator – Fatherland, Enigma, Archangel, Pompeii, The Ghost, The Fear Index, An Officer and a Spy, which won four prizes including the Walter Scott Prize for Historical Fiction, Conclave, Munich, The Second Sleep and V2. Several of his books have been filmed, including The Ghost, which was directed by Roman Polanski. His work has been translated into forty languages and he is a Fellow of the Royal Society of Literature. He lives in West Berkshire with his wife, Gill Hornby. 
Lee Randall is a freelance writer, editor, interview and book festival programmer based in Edinburgh. As a live interviewer she's worked at events across Scotland, including at Edinburgh International Book Festival, Wigtown Book Festival, the Borders Book Festival, and A Write Highland Hoolie, among others. With her programmer's hat on, she's currently thinking about the line-up for Borderlines Carlisle Book Festival, 2022.