Sunday 5th December, 4.30pm – 5.15pm
'It is required/ You do awake your faith,' says one character as the ending of The Winter's Tale begins to unfold.  Part of the faith that is required both of the other characters and of us is a belief that old stories are not always doomed to repeat, that tragic endings about loss can sometimes be turned, and that hearts can sometimes be healed when generous interventions are made.
Like all of Shakespeare's late plays, The Winter's Tale has other tales embedded within it – tales that it alludes to, tales that might have been, tales that flirt on the edges of recognition in order to enrich and inform an audience's understanding of the tale that it is, and the tale that it isn't. These other tales dance in and out of consciousness as Shakespeare trades on a rich pool of reference to bring depth and focus to the world of his own play.
In this session, Judith Buchanan will tease out some of the purposeful and playful narrative layerings within The Winter's Tale as a way of inviting audiences and readers of play to enjoy this beautiful and painful tale the more.
Volunteers from the audience will be sought to read short passages from the play with Professor Buchanan as part of this exploratory session.
The session is suitable for those aged 15 and over.  Prior knowledge of the play would be an advantage but is not required.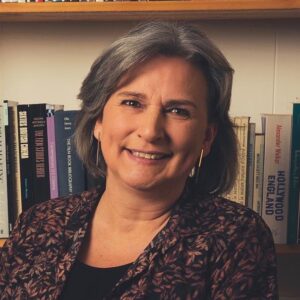 Judith Buchanan is a British academic, Master of St Peter's College, Oxford and a member of the English Faculty at the University of Oxford. She is an academic Shakespearean and a film scholar who works also with the creative industries. She is Director of Silents Now, a project bringing works of silent cinema to contemporary audiences.  She co-adapted, and acted as Shakespeare advisor to, the British feature film Macbeth directed by Kit Monkman (2018) and provided expert voice-overs for silent cinema DVD releases for the British Film Institute and the Thanhouser Film Corporation. Author of a number of books, including Shakespeare on Film and Shakespeare on Silent Film, she co-founded the York International Shakespeare Festival. She sits, as a government appointment, on the Marshall Aid Commemoration Commission.