Saturday 4th December, 11.30am – 12.30pm
BBC broadcaster Cathy MacDonald interviews Mona Siddiqui about her writing career, the inspiration behind her writing, and how her beliefs have shaped her work.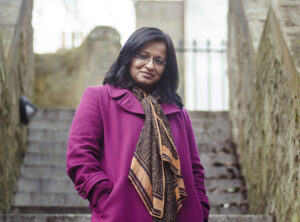 Mona Siddiqui OBE, is Professor of Islamic and Interreligious Studies and Assistant Principal for Religion and Society at the University of Edinburgh. Her research lies in the field of Islamic law and ethics and Christian-Muslim relations. Amongst her most recent publications are, Human Struggle: Christian and Muslim Perspectives, based on her 2016 Gifford lectures. Her current projects explore Gratitude and Loyalty in Christian and Islamic thought. In September 2022, she will be a Visiting Professor at the Helsinki Collegium of Advanced Studies.
She well known internationally as a public intellectual and is a regular commentator in the media, known for her appearances on BBC Radio 4 and BBC Radio Scotland's Thought for the Day and BBC Radio 4's The Moral Maze. In 2012, she appeared as a guest on Radio 4's Desert Island Discs. She is a Fellow of the Royal society of Edinburgh, the American Academy of Arts and Sciences and in December 2020, she was elected honorary member and first speaker of the Royal Scottish Academy.

Cathy Macdonald is a bi-lingual broadcaster with over 25 successful years across a wide range of programmes as a presenter and producer. She began her career in television, in current affairs, with BBC Scotland's Gaelic Department, and has over the years presented a variety of programmes on both radio and television, gaining vast experience in live broadcasting. She currently presents a daily live topical lunchtime show on weekdays, on BBC Radio nan Gaidheal, and is one of the regular presenters on BBC Radio Scotland's "Sunday Morning with…" series. She recently co-hosted BBC Alba's Hogmanay Show and is a regular presenter on the channel.