Hi again! My final blog is going to be about the extra-mural studies (EMS) in my first two years of vet school. I get a lot of EMS-related questions, so hopefully sharing my experiences would be useful for you.

From this year onwards, we need to do a total of 12 weeks of animal handling EMS placements. And I finished all my placements in my first year so that I get to enjoy my full holidays in 2nd year, but scheduling EMS is completely dependent on you. Some people prefer to spread out their placements in the first 2 years. You do not need to worry too much about finding a placement by yourself since we have a database for students to find EMS placements.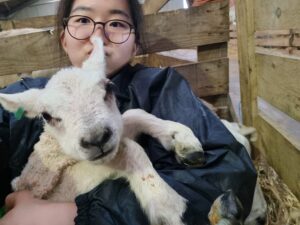 So, I would like to talk about a few EMS placements I have done in my first year. The first EMS I would like to talk about is lambing! It is a requirement to do lambing EMS in the UK, so I have done mine in a small town in Scotland called Brechin. Most work I have done was basic management of sheep such as refilling the hay, and water bucket, assisting with lambing and so on. I also had to do night shifts from day 3 onwards and I remember wearing more than 5 layers of clothes because it was cold up north in Scotland. My biggest advice is to bring lots of layers for you to keep yourselves warm, especially during the night. I would also recommend going with your friend because it is always nice to have someone to support and help each other.

For the poultry placement, I did mine in a research unit. It was quite an eye-opening experience to see a research project going on with chickens and the work that researchers put in for enhancing the welfare of poultry. I had a chance to learn about general husbandry and the anatomy of chicken even before learning it from vet school. This became quite useful when we got to learn about poultry this year since I had a prior basic understanding from this EMS placement.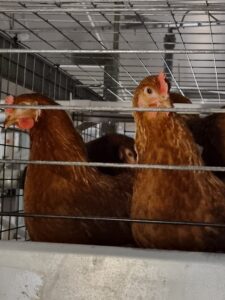 Lastly, I like to talk about my dairy EMS placement, and I did mine at Langhill which is a university dairy farm. This was an opportunity for me to be more familiar with the dairy setting since I never actually had a chance to deal with cows. It was a great opportunity for me to understand the whole process of milking and apply the way how I approach dairy cows from cow handling practical. Before attending dairy EMS placements, make sure to bring your PPE which you will get in your first year of vet school. It would also be helpful if you go through some of your dairy husbandry notes as you can apply what you have learnt in vet school.

Overall, these experiences have been helpful for me to understand the different ways to handle a range of animals and put all students in a good position on handling animals before moving onto 3rd year. So hopefully you have found my blogs helpful and would be great to see you in Edinburgh!
Share