Hi Everyone!
I hope you are doing well! My name is Nina and I am currently in my first GEP year at R(D)SVS. I began my studies here in Edinburgh back in August 2021 and I can't believe how quickly time has passed. I spent Christmas break back in Toronto, Canada where I got to spend time with friends and family while managing to complete one week of EMS at a horse ranch. I am almost done with my first year of veterinary medicine and I wanted to share what I have been doing in and out of school since I got back to Edinburgh from winter break.
In School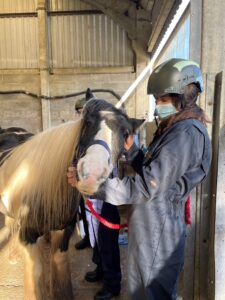 We jumped right into a new course, Animal Body Systems and Cases (ABS&C), at the beginning of January where we started learning about the normal physiological functions of the mammalian body. In this course, we covered topics such as cardiology, respiration, digestion, neurophysiology, neuroanatomy and metabolism. We wrote an exam at the beginning of March that covered all of these subjects and we are now continuing the course with endocrinology, reproduction and components of the blood. Our next ABS&C exam in June is non-cumulative, so we will not be tested on the material we covered on our first test in March. We partake in in-person labs and dissections each week which pertain to the current material we are being taught. Further, we are continuing with our year-long course, Animal Life & Food Safety (AL&FS), just as we were last semester learning more about animal handling and safety. Our final for AL&FS will be held after our Easter break sometime in April.
Alongside these classes, we are continuing to build our animal handling skills through practical classes with various species. Our sheep practical this semester gave us an opportunity to learn about and practise lambing care before we go off to do our lambing placements this Easter. We even got the chance to see lambs being born at school while attending this class! Our horse practical this semester taught us how to accurately weigh a horse, calculate nutritional requirements and how to bandage a leg. During our cattle practical, we were shown how to appropriately place a gag in a cattle's mouth. These classes are one of my favourites because they give students an opportunity to be with and handle the animals. These classes will really help you prepare for your Extra Mural Studies (EMS) placements if you have never worked with certain species before.
Out of School
Although school is my main focus, I do make sure to take time off from studying and do other activities outside of school. I have recently started hiking quite a bit more with friends as the weather is getting nice. We have ventured out to the Pentlands and Arthurs Seat quite a bit, and even hit the highlands for a couple of nights in February. I have started taking yoga classes this year which are offered with a gym membership. I find that these classes not only help my body feel energised but also provide a great mental break from studying. My friends and I get together once a week to watch reality TV (pretty good entertainment) where we bring snacks and sometimes cook meals together. I have also joined the Dick Vet volleyball club (new this year) as I used to play in my undergrad years and miss it greatly. Clubs can be a great way to meet new people you otherwise wouldn't have the chance to meet. Lastly, I recently purchased a spike ball set and plan to play with friends whenever the sun comes out next 🙂 I understand that finding the time to be social during this programme may be challenging, but it is possible if you are able to find the right school-life balance that works for you.
I hope this post was able to give you an idea of what the vet programme is like in and outside of school. By managing your time and schedule around studying while still being involved in activities that you love to do outside of school, vet school will be a fantastic experience.
Nina
Share