One of the questions I hear quite a bit is "What kind of animal experience should I get?" Honestly, get as much experience with as many different animals as you can. Getting experience with animals you think you might be interested in working with in the future, is beneficial as well. However, the University of Edinburgh starts animal handling right away with many different species, so even if you come in with experience with mainly one or two animal species, you will have a chance to work with so many others, and you might even decide you want to take your veterinary career in a different direction than what you thought at first. I really like that we handle and learn about all animals, this gives us so many opportunities and options.
Before vet school, I had mostly worked with small animals and some exotics/pocket pets. I worked in the animal lab at my undergrad university for a couple years taking care of rabbits, a few doves, and some aquatic species.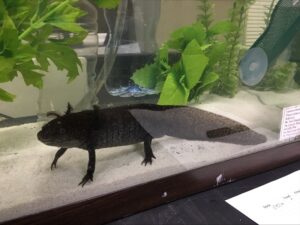 I worked as a kennel assistant at a clinic that also boarded dogs for a little bit. I then worked part time as a receptionist at a small animal clinic for two years while I was doing my undergrad degree. I would actually highly encourage students to get some experience with reception, as I found this really grew my communication and problem-solving skills. It also helped me grow a somewhat thick skin, as it is a difficult job, especially depending on the clinic that you work at and the people you work with, and there were many days that I drove home from work in tears.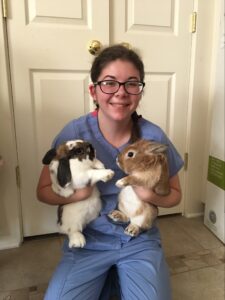 I then took a year off and worked as an assistant at a different small animal clinic (that wasn't AHAA regulated, for those from the US). I absolutely loved this, and it gave me lots of experience taking histories from clients, drawing blood and giving vaccines, helping around the clinic, and also getting to help with some rabbits and guinea pigs. While in a way it would have been nice to not have taken this year off to work, because it was hard to get back into studying and being in school, I found the experience I gained extremely beneficial and I am very glad that I did this. During this time, I also fostered two baby rabbits through a rabbit rescue organization. They were a lot of work, especially since I already have two rabbits of my own, but I still really enjoyed it.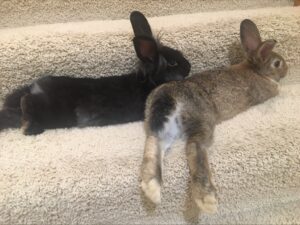 As I mentioned before, at Edinburgh we are taught how to handle many different species, and then as part of our course we do animal husbandry extra mural studies (EMS), where we will go and get experience on farms, shelters, zoos, etc. taking care of different kinds of animals. So far in the first year of the Graduate Entry Programme (GEP) course that I am in, we have been taught how to handle and gotten to practice handling cows, sheep, horses, dogs, cats, birds, rabbits, guinea pigs, mice, and hamsters.
Also, I have gotten a placement booked for a week to help out at a zoo, and I am in the process of getting a lambing placement. These EMS placements are things we have to find ourselves, but there is a database from what past students have done. I like that this allows us some freedom to potentially travel to other places to do some of our EMS placements. I am looking forward to doing some of these EMS placements over Spring break. And right now, I am looking forward to heading home to the US for Christmas break and getting to see my family, my two wee rabbits (pictured below), and meeting the new rescue dog my family just adopted.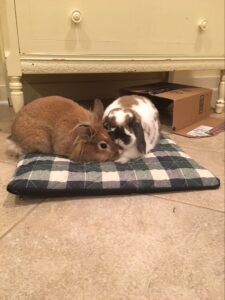 Share