Hi everyone!
My name is Nina and I'm a first year GEP vet student at the University of Edinburgh 😊 I'm originally from Toronto, Canada and I'm here to share some of my favorite things about Edinburgh and the UK. But before I do, I want to share something with you. To be honest, I was quite nervous when I realized I would have to be moving to a new country, as some of you may be. If that's you, I'm here to tell you that everything happens for a reason. There is a reason you applied to this school. There is a reason you are reading this blog post right now. So if that's you, I want to tell you that you are making a decision you will never regret!!! And why not? Because moving here you will experience…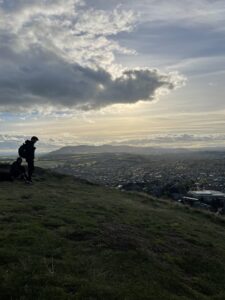 The City and Scotland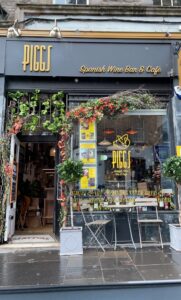 Edinburgh is one of the most beautiful cities I have seen thus far. It is filled with historical architecture and a charm that is unexplainable. There are tons of cute cafés and cosy pubs all around the city that I love exploring during the weekends. Not only are you close to the city center, but you are also close to the countryside where there are amazing sceneries and beautiful places to hike. I encourage you to get out into the highlands as soon as you can. I try to head up to Arthur's seat twice a week because I find it to be a great mental break from studying. Also, it doesn't rain here as much as you would think! 
Meeting New People 
Even though I love my friends and family back home with all my heart, I started to feel stuck living in the same city I grew up in. Coming here alone gives you an opportunity to meet new individuals and form long-lasting connections you otherwise wouldn't have. Making new friends from all over has helped me grow as I've gotten to learn more about other countries and cultures. The people here are also very warm and friendly, which makes the environment quite welcoming. I never thought that I would be able to feel this much at home being so far away from Canada, but here I am.
 Travelling 
Where I am from, it's very difficult to travel to a new country without taking a long flight. Being in the UK, you are close to many countries that you can easily explore during breaks, Extra Mural Studies (EMS) placements and weekend trips (flights are super cheap). I plan to travel to Ireland for my Easter EMS placement and to Belgium next semester for a concert! Other students are also very keen on exploring new places, so it isn't hard to find people to travel with. Had I not moved to this country, I probably wouldn't have had the chance to explore the UK and Europe as much as I would like.
 The School 
Finally, on top of everything, you are going to become a vet! This has been a dream for so many of us and from first-hand experience, this is one of the best schools you can attend to pursue your career. The facilities at the school offer high-level education and the teaching staff is very dedicated to helping students learn. I was pleasantly surprised when we started handling animals the very first week of school. The highlight of my summer semester was getting to do in-class dissection twice a week because it really helped tie in the material we were being taught in lecture. Even though it's only been a few months since I've started school, I feel like I've learned so much already.
Like myself, I'm sure that you will quickly fall in love with everything that the school and the country have to offer. I can't wait to see what these next 4 years bring and I hope to see you here soon.
Best, Nina
Share