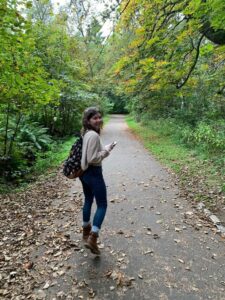 Hello! My name is Kayla, and I am a first-year Graduate Entry Programme (GEP) student from Minnesota! I will be sharing my application process and how the experience has been for me so far as an international student.
Application Process
In regards to the application process, it wasn't too different to the application for most other schools for US students. I applied through the VMCAS national application for US students. Since I was applying to several other schools as well, this allowed me to submit one overall application for all the schools I was applying to. In addition to this, most of the schools had several other separate essay questions or short answer questions to fill out. The University of Edinburgh then invited students for an interview over Zoom. This was a bit nerve-wracking, but all of the faculty interviewing us were super nice and friendly, and I had a very positive experience and it felt very conversational. In addition, I was worried that I would have trouble understanding people with different accents, especially over an online platform, but this was not the case at all. It also helped that we talked to various people throughout the interview who didn't all have the same accent, so even if you have a bit of trouble understanding one person you will most likely not have too much difficulty understanding everyone else.
The University of Edinburgh also had various online information sessions. I found these a bit difficult to attend just with the time difference and because I was working full-time. However, since they had a variety throughout the process and provided recordings afterwards, I found these sessions very helpful in making my decision of which school to attend.
Traveling to Edinburgh with Covid Regulations
I was rather worried about traveling to Edinburgh with all of the Covid regulations that were in place. At the time, I had to quarantine for 10 days when I first arrived. Because of this, I planned to arrive early to have enough time to quarantine and then have a few days to explore the city before the course began. My mom also travelled with me so I wouldn't have to quarantine alone and because she wanted to be able to see Scotland as well. Due to this, we ended up finding a wonderful Airbnb to stay in during our quarantine. However, if I had been arriving early alone and needing to quarantine the university was able to provide quarantine accommodation options.
Traveling from the US to Edinburgh was not too bad. We did have to take a Covid test and have the results before our flight to show at the various airports, and there was also a Passenger Locater Form to fill and print out as well. I also had to have my visa and passport of course, which was a whole separate process. I would definitely recommend staying up and not going to bed when you arrive until what normal bedtime would be here, although a bit of a nap when you first arrive doesn't hurt.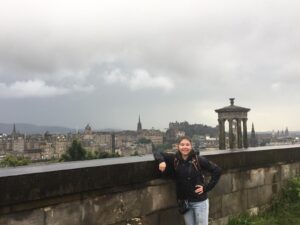 I left about 4 extra days to explore the city and be able to go purchase whatever kitchen/room supplies I couldn't bring and needed. I really enjoyed this time to get to know the city with my mom, and the quarantine before this gave me time to get different things figured out, like how to set up a new SIM card for my phone and how to set up a bank account so that I could get right on it as soon as I was able to get out. I would definitely recommend coming several days early, if possible, to make sure you are all set up and don't have to worry about too many things once classes start.
Housing and What it's Like Living in Edinburgh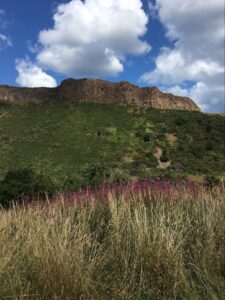 I ended up opting for university accommodation as I found it was very challenging to find accommodation in Edinburgh while you are still in the States, although I do have some friends who were able to do this. With university accommodation, because all of the GEP year arrived early together to start summer classes, they tried to room vet students together since we were some of the only people in the building to start out with during the summer semester. I have found this to have worked out very well. In our building there are four students per flat, we each have our own room and a shared kitchen and two bathrooms. I have been able to get to know some people in my program better because of this.
The accommodation is also very close to the city center – including grocery stores, second-hand stores, the university gym, and LOTS of coffee shops that have been wonderful for studying at! It is also nice for an occasional night out. And if, like me, you occasionally get tired of a busy city center and long for some greenery and good walking paths, don't worry! It is very near Arthur's Seat, which is great for a nice hike, and it is also near the Meadows. There are also buses from university accommodation that go directly to the Easter Bush Campus. The Lothian bus app has been very helpful for figuring out bus routes and they are generally very straightforward.
General First Impressions of Studying Veterinary Medicine in Edinburgh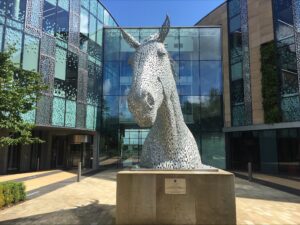 So far, I have really enjoyed living in Edinburgh. I love being able to walk most places, and there are a tonne of buses as well if somewhere is too far to walk to. There are a lot of students in the area and a lot of opportunities to get involved in university clubs. Another thing that I enjoy is that it's pretty easy to take trains for a day trip to other cities in Scotland, such as Glasgow.
As a GEP year, our classes are a bit smaller this first year, which has been helpful to be able to get to know other students. This is also nice because for this first year most of us are international students, a majority are from the US and Canada, so many of us have similar experiences of having to adjust and can ask each other for support. I especially appreciate that it isn't a competitive environment, we are all here studying vet med and can study together and help each other out.
Share