Hi, everyone! I am Shirley and am in my third year of the 5-year BVM&S course. As this is the second last week of lecture, we are approaching the end of the school year. I want to share what it is like at this point of time and give an overview of this academic year.

Hybrid teaching has been adopted this year due to the pandemic – mainly through online lectures with one day on-site practical classes per week. As the third year is the first clinical year of the course, this year's practical classes and tutorials have been focusing on different basic clinical skills. Through these practical classes, I have learnt the following skills and more: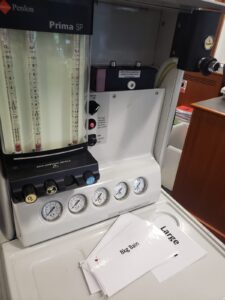 – Placing IV cannula, taking blood from jugular vein or cephalic vein, bandaging a dog.
– Familiarizing myself with different imaging modalities. In the practical classes, I had the chance to practice using the ultrasound machine and familiarise myself with the basic settings of the machine. I also practised how to position the patient to x-ray different target anatomical sites and views.
– Using anaesthetic machine safely, including knowing how to use different parts of the machine, how to leak test the anaesthetic machine and the breathing system prior to usage, and what we need to be aware of when applying it to the patients.
– Communication skills via scenario role play.

Next week will be the last week of lectures, which is followed by study week. It is important to strive for work-life balance – focusing on studying as well as one's well-being. What I find useful is going for a walk or doing a work out at home, taking study breaks to watch YouTube, calling friends and family to allow myself to have a break.
I wish all the best to everyone who has upcoming deadlines and exams.
Share