Hello Everyone!
I hope everyone had a great Easter break! I personally had a rested 3-week break, enjoying some Scottish sunny weather with my friends while doing some studying for the NAVLE (North American Veterinary Licensing Exam).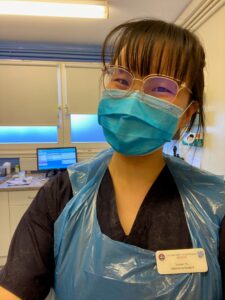 For my last week of Easter break, I spent it on a clinical EMS (Extra Mural Studies) placement at a small animal clinic here in Edinburgh! This is my first in-person clinical EMS since the pandemic began, and since starting clinical year, so I'm very excited that this week has finally arrived.

Leading up to this week, I was quite nervous and stressed, scared that I didn't know enough to be there, or the vets were going to ask me a question and I wouldn't know the answer. I tried my best to cover some basic knowledge before this placement, which did help me in certain cases, but (spoiler alert) there were also questions that I didn't know the answer to, and that's okay! This week has been not only a great time to practise what I've learned, but also an excellent opportunity to gain more understanding about how theoretical knowledge taught in class is applied in practice.

It was also a great opportunity to learn how to ask for help. Coming out of an academic setting, it can sometimes feel like we are required to know everything by ourselves, where every question directed at us feels like an examination of our skills. In reality, we are humans, and we cannot possibly retain all the knowledge required of us. Discussing cases with colleagues therefore becomes an important part of being a successful vet. The vet school's encouragement of team discussions during tutorials and practicals now makes even more sense, and I have a greater appreciation for them after this week.

Unfortunately, I don't have any interesting photos to show how my week went, except for a little selfie that I took in all my COVID / vet PPE, looking rather tired but happy at the same time. Such is the life of a vet student / vet, and this week only made me more excited about my future career. From consultations to phone calls, to notes, to surgeries, I want to do them all!

Hope you enjoyed this post!
Until next time,
Viv.
Share