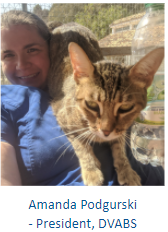 I wrote in March about the things I have done to get through learning and studying in the pandemic. Today I want to talk to you about my hopes for the future and my career. As the world starts to open up more and Covid looks to be on a (somewhat) downward trend, I want to look ahead and hope. Before I look ahead, though, here is a little story about how I started my journey to becoming a veterinarian.

One day during my last year of undergrad, my roommate brought home a stray cat. Come to find out, the little cat was pregnant! I was working the night she went into labour and my roommates were panicking. I had them time the contractions and knew I did not need to rush home. This little cat was young and had no idea what was happening to her or what to do about it. I stayed up with her until the early hours of the morning and helped her give birth to her first kitten. I grabbed some gloves and took the embryonic sac off the first kitten, rubbing it a little to start its breathing. In the meantime, the mother had had her second kitten and was starting to figure out what she needed to do and how. I gave her back the first kitten and she started licking it along with the second. In all, our little stray cat had given birth to 6 adorable little kittens, though one was stillborn. Regrettably, the kittens soon became sickly and were not thriving. My roommate took the feline family to the vet and found out that the mother had feline leukemia (FeLV) and had most likely passed it on to all of her kittens through her placenta.
We did everything we could for those little kittens. We warmed milk and fed them with little droppers. We cuddled them to keep them warm. One day, I came home from school to find one of the little boys struggling. I knew it was almost time. I swathed him in blankets and cuddled him close. I called my mom in a desperate hope that she might know of some miracle cure that would help. I held that little kitten close and watched him take his last breath. I swore that day that I never wanted to feel that helpless again. Now, here I am at vet school, looking ahead to the future and my career.

When I started vet school, I knew I had a preference towards working with dogs and cats. However, I wanted to keep an open mind and thought about all of the other opportunities out there for me. Luckily, the Dick Vet offers numerous sessions on optional career paths. They have guest lecturers come in and share their experiences and career paths. One talked about moving from a clinic to research and absolutely loving the fix. Another talked about working on sloths early in her career and now she works with horses. Everyone has their own journey to share and there are so many options out there. One thing I learned was that I cannot possibly do everything and there is not enough time to divide your attention. After keeping that open mind and having those first farm and exotics practicals, I began to realize that I could not be the vet I wanted to be if I pursued a future in mixed practice where I was constantly having to divide my focus between the many species. I realized I needed to decide what I wanted and devote my energies to that goal.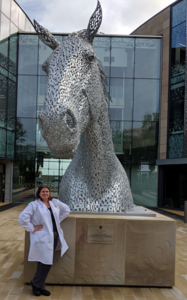 After sitting down and talking to my vet mentor back home, vets that worked with him, my husband, friends, and family, what I really wanted was to be a vet for companion animals – dogs and cats. This was where I was comfortable and I am also incredibly passionate about cats. I also have a keen interest in behaviour medicine. That being said, I made the decision in 3rd year (2nd GEP), that I want to own my own practice for dogs and cats, but make it dog and cat friendly, taking into consideration their individual needs in a clinic and developing a clinic as stress free as possible. To that end, I spoke to Professor Danielle Gunn-Moore, our resident feline expert at RDSVS, about what she did as a student and young vet to direct her career into feline medicine. She told me that she was passionate about cats and just pursued every opportunity to work with cats and read everything that she could about them. With that advice, I began to realize that I no longer had time to read everything, go to every conference, or watch every webinar out there. However, I have found that watching webinars, even as a review, can be quite helpful in revision. Sometimes, the way someone else teaches something may connect more with you, so don't be afraid of repeat topics.

Anyway, back to my future – the low stress dog and cat clinic. Now that I have decided what it is I am passionate about, I decided to begin working towards this goal. I now focus all of my efforts towards this. I attend career conferences that give me tips on finding my niche, finding my first job, practice management, and dealing with clients. I attend conferences and watch webinars on all dog, cat, and behaviour-related topics. I have VetTimes delivered every week and pick out the relevant articles. I no longer take the time to go to farm or exotics webinars, unless they are helpful for coursework.

So, my advice to future students is this. Take your time in your non-clinical years to explore and experience everything the school has to offer. Try new things and listen to all the advice you can get. You might be surprised what ignites your passion. But once you find that passion, don't let it go. Hone it and focus it. Dedicate what little free time you have to developing that passion. Veterinary medicine is so broad, with almost endless career options. If you can dream of a career, you can probably make it happen with hard work and dedication. Take your time and think about this as you go through school, and then take the steps you can to work towards that goal.
Share