I was away from home for 358 days. I started missing my dog, my family and friends the moment I stepped on the plane to Scotland. What I did not realize was how much I missed being home, like the physicality of being in Los Angeles, until I was sitting in an Edinburgh cinema watching Captain Marvel. If you have not seen the movie yet, SPOILER ALERT: Magee's Donuts makes a cameo. I turned to my friend in the theatre and said, probably too loudly, "I've been there! Those donuts are so good!" The taste memory of Magee's cinnamon crumb was so powerful that once I left the cinema I could not wait to get back amongst the gridlock and into the zip codes I knew so well.
Los Angeles is….weird. It is so many different things at once and stereotypes which hold up in a wide angle lens breakdown as you zoom in closer. In the same way physicists try to unite general relativity and quantum mechanics, I think you could spend a lifetime trying to develop the Theory of Everything Los Angeles. I am personally terrible at describing what it is like living here. I lead with the adjectives "brown and hot" and then segue into all the places I like to eat. Maybe the best way to describe LA is as a customizable, immersive experience which is unique to the user since no matter what activities you like, whatever food you crave — there is something for you here.
Because free time becomes a scare resource during the school year, six weeks to travel and adventure without homework or work experience has felt like the greatest extravagance. I have loved being able to revisit old haunts and discover new ones while being in LA. My family and friends ask me what feels more like home now, Los Angeles or Edinburgh. Honestly, I don't know. I love so many things about Edinburgh and have met so many wonderful people there. I have definitely missed it while I've been gone. If home is ultimately where the heart is, then I guess it will be wherever I am with my dog, and bipedal family and friends, no matter the zip code. What I do know is that Edinburgh has made me appreciate things I never thought I would miss about Los Angeles. No matter where I call home, I'm so lucky that Los Angeles will always be where I'm from.
————————————————————————————-
 Los Angeles Starter Kit: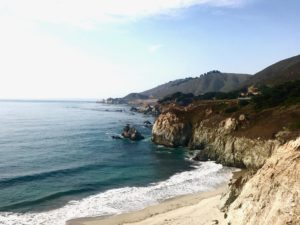 Supplies:
Sunglasses
Sunscreen
Sandals or comfortable trainers, shorts, tanks
Snacks for the car (we joke about traffic, but the traffic is no joke) and a good playlist

Prerequisite: access to a car

Sense of adventure!
Reading: 
"Los Angeles Notebook" by Joan Didion

Raymond Chandler et al.

Counter Intelligence: Where to Eat in the Real Los Angeles by Jonathan Gold
Listening: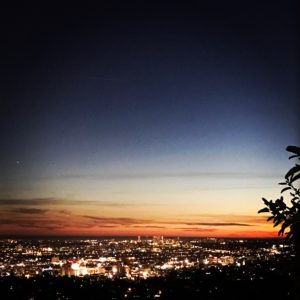 Viewing:
American Graffiti (1973)
Chinatown
(1974)
Die Hard (1988)
Clueless (1995)
Collateral (2004)
500 Days of Summer (2009)
Share