Wake up, work out, eat, go to university, come home, eat, sleep, repeat. 
The day in the life of a vet student summed up in one sentence. Or is it? Do you really spend all day studying? Do you ever get to do things that are outside your vet school fish bowl? What do you do for fun?
Let me be the first to tell you this -"BRANCH OUT AND TAKE A BREAK!" -Danielle Poll.
We all love animals! Most of us have dreamed about being a vet for, well, forever! However, getting out and diversifying is a must!!  This helps to keep from going stir crazy and burning out, which can happen to the best of us. It keeps your brain from focusing on one thing and getting bored. With so many things to go and see or do in Edinburgh, who wants to be stuck studying all the time??? Here are some tips and ways to get involved.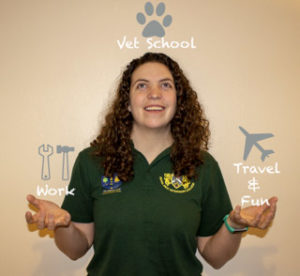 Find a Balance

This is important for multiple reasons. You came to vet school to become a vet, which means you need to study and work hard so you can pass. What this doesn't mean is you need to spend every waking moment studying and giving all your time to vet school. You need to work hard enough to have a good understanding of the principles and procedures that you will be faced with as a graduated veterinarian. You don't have to know everything all the time, (which is a relief as there really is just too much for it all to fit in your brain) but you need to know where to find it and have a general idea. This means, study hard enough, but enjoy time to relax and give your brain a break.

Manage your time

This one is a constant and daily task that you will start to master. Then when you think you're a pro, you will realise you forgot an important event or talk you wanted to attend. This is something I do daily and weekly is make sure I know what I have going on all the time. Put it in a calendar or whatever works best for you. Know where you are meant to be and what's due, so you can plan the other free time and use it wisely.

Prioritise

Decide what the most important things are and focus on those. For example my list goes like this: University, work, church, fun. Again this is a constant push and pull on where I can spend my time and what is most important. Sometimes things mix together, while other times I have to give up one to do the other. Which is when the list comes into play as I have already decided what choice I will make based on what is important. It helps me say no when I want to have fun, but realise I have an exam coming up in two days that needs to come first.

Try new things or focus on things you really enjoy

Now you decide what you want to do!! Do you want to stick with what you know and work hard to get better at it? Or are you like me and you want to try all different things because you have too many interests?? No matter what category you fall under, enjoy it!! I loved learning to play rugby when I first moved to Edinburgh. I wanted to try something new and now I love the game. I also found rock climbing and enjoy going when I can. This year I joined the SCUBA club and am working on improving my diving so I can experience nature differently. There are endless things that you can get involved in with Edinburgh University. There are multiple clubs and societies as well as many ways to get involved in leadership roles and helping improve student experiences. Whatever you want to get involved in, there is a place for you to take part. This is what makes it so fun, as there is something for everyone!!
So what things can you do?? There are over 200 clubs and societies with Edinburgh University!! How can you not find something you enjoy with that many choices? You have football (soccer for those Americans reading), SCUBA, rock climbing, parkour, tennis, dancing, running, rugby, debate, and so much more!!!  Because I have a fear of missing out on something great, I try new things all the time. I also get involved in clubs that help me make a difference for the future students in the university. No matter what your interest or skill level, clubs are great to bring you in and teach you no matter your skill level. There are plenty of ways to get stuck in within the community and making friends is as easy as striking up a conversation. Taking time to have fun has really benefited my mental health, and also helped me learn to communicate and work with others. Trying new things is a way for me to experience frustration of learning as well as the joys of accomplishment! Don't limit yourself and think that because you need to study, you can't do things you enjoy as well.  For other tips and advice on how to balance being a vet student, take a look at my other blog at https://www.adventurousvet.com/blog/juggling-vet-school
You will find that the monotony of doing the same thing every day can disappear when you branch out and try something you haven't done before. It's as easy as showing up to an event with an open mind. Once you figure out that balance, you no longer feel like your on the hamster wheel that never changes. Take my advice- branch out and live a little.
Share