To find more information on this month's theme…
For more news on Women in the film business, try:
Birds Eye View celebrates and champions films by women and non-binary people. https://www.birds-eye-view.co.uk Insta #reclaimtheframe
In June 2019, BFI put together a list of 38 classic films directed by women
https://www.bfi.org.uk/lists/top-your-watchlist-38-classics-directed-women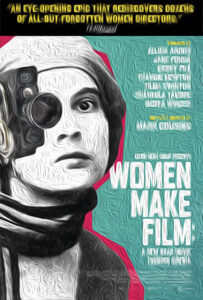 Consider buying the 5 DVD set of "Women make Film: A New Road Movie Through Cinema"
Dir. Mark Cousins, full of brief excerpts from excellent movies made by women. A richly rewarding trip off the beaten track of the well-known films.
Women Film Critics Circle (WFCC) is an association of 75 women film critics and scholars across the media – in December, it announced its best movies list for 2021
https://criticalwomen.blogspot.com/2021/12/women-film-critics-circle-awards-2021.html
"Another Gaze: A Feminist Film Journal"
Women's Film and Television History Network – UK/Ireland
Invitation to write a blog post (200-800 words), journal listings, Conference, Resources…
https://womensfilmandtelevisionhistory.wordpress.com/submit/
Written by Heather Gregg for The Film Dispatch.