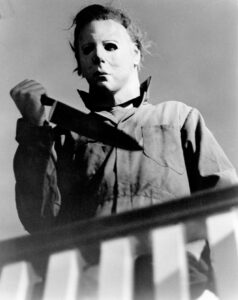 In an era of media dominated by the sequel and reboots, no one was surprised to see that the horror icon Michael Myers was coming back to the big screen. Hollywood's attempts at revitalising a franchise appear to have one question in common: how is what we—the modern audience—think and believe different from those of the past?
Films with Michael Myers tend to question society's evolving perception of evil and monstrosity by looking behind his mask. With many attempts to expand on the lore of the stoic slasher, there are multiple movie timelines to follow, and viewers can pick their own experiences. Halloween Ends (David Gordon Green, 2022) is the conclusion of one of these timelines, which all begin in 1978, with Halloween (John Carpenter).
The story begins with John Carpenter's original film Halloween (1978), which takes place in Haddonfield, Illinois, a safe suburbia in the United States. On Halloween night in 1963, six-year-old Michael Myers brutally murders his teenage sister with a knife. Institutionalised for his crime, it isn't until 15 years later that Michael escapes the facility and returns home. He sets his sights on Laurie Strode (Jamie Lee Curtis), a 17-year-old babysitter, whom he stalks and attempts to butcher. Donning a botched William Shatner mask, a navy blue jumpsuit, and an everyday kitchen knife, "The Boogeyman" goes hunting. Her friends fall victim to his evil, and as the genre insists, Laurie survives, becoming The Final Girl. Michael is locked up again, and the film ends.
Halloween (1978) cemented itself as the fundamental film in the slasher genre, its simple story bringing forth many horror movie tropes that we continue to see today, and a slew of slasher flicks that used Halloween (1978) as a basis for inspiration and emulation. Michael Myers' image remains so prevalent in pop culture because of his ambiguity. He is an unknown evil, seemingly lacking motivation or reasoning for his crimes. Hence the name "The Boogeyman" Laurie refers to him as. The premise of this original film is shockingly simple, considering its success. It's a low-concept, small-budget slasher film that exploded at the box office and enraptured audiences.
Forty years later, Blumhouse and Universal released Halloween (David Gordon Green, 2018), which takes place 40 years after the events of 1978's Halloween. It features a jaded and paranoid Laurie Strode haunted by the events of that fateful October night. Through a series of events, Michael escapes captivity for the second time, dons his mask, and becomes The Boogeyman again. This time is different, though. He is determined to finish off Laurie; her daughter and granddaughter are just an added bonus. With decades of pent-up energy, the kills are gorier, the brutality unfathomable, and the methodology in the first film almost nonexistent. The film was also made with a substantially larger budget and for an audience long accustomed to CGI spectacles rather than practical ones. For this return of Michael Myers, the filmmakers went bigger, bloodier, and bolder. Halloween (2018) shows The Boogeyman terrorising more than just teenagers but an entire town. The film ends with Michael in flames and a sense of relief that the evil is extinguished.
Peace is not to be because Halloween Kills (David Gordon Green, 2021) picks up exactly where it left off. The gore is amped up, the budget is doubled, and the story focuses on the rage of Haddonfield, the community that Michael Myers has terrorised for just as long as Laurie has. This film ends with the death of Laurie's daughter, who Michael slaughters in an eerily similar way to his first murder victim, his sister. He escapes the police and flees, disappearing into the darkness.
Finally, Halloween Ends (David Gordon Green, 2022). Michael Myers has been in hiding for four years. Life has gone on, and the people of Haddonfield are attempting to put their lives back together. The strange thing about this film is that it does not quite feel like a horror movie. Michael Myers himself does not appear on screen until the 40-minute mark. Before that, the film is voice-overed by Laurie, who is writing a memoir to deal with the trauma she has been through and explore what evil is. The film is more concerned with questioning the birth of evil, whether or not it is innate or taught, if it is a physical presence or seed of thought, than with Michael Myers himself.
Halloween Ends (2022) introduces the idea that audiences fear the evil inside of Michael Myers rather than the man himself, and therefore, The Boogeyman is possible in anyone, not just Michael Myers. The film introduces Corey Cunningham (Rohan Campbell), a normal, awkward young man who makes a tragic mistake that Haddonfield ostracises him for. From this pain and isolation, a monster shows its face. This monster is not fully realised until Corey looks into the eyes of Michael Myers, their locking of gazes revealing a kinship of otherness. This sense of belonging is all Michael and Corey need before they become mentor and mentee. While it is ambiguous what motivates Michael Myers to kill, Corey Cunningham murders out of hatred for his life and those around him. The film positions this as what evil looks like today.
Halloween Ends (2022) denotes a finality to the story of Michael Myers and Laurie Strode, with Michael finally dead and Laurie prevailing with her granddaughter surviving alongside her. Michael Myers, although somewhere between man and supernatural, ages, scars, and changes. His mask has haunted audiences for decades, with new generations and directors spinning their own interpretation of evil through him. It is clear his image still resounds with audiences, but what is not as clear is the future of said image. Despite the finale, the film offers several possibilities for the franchise and its icon.
Halloween Ends (2022) concludes that evil does not die; it just changes shape. With Corey's ending unsettled, the film hints that the mantle of Michael Myers, or more specifically, The Boogeyman, is up for grabs. Michael's body is gone, but his mask remains, denoting that the icon will live on. A personal theory is that Allyson Nelson (Andi Matichack), Laurie's granddaughter, will succeed as the new Final Girl, and the new shape of evil will stalk her. All they need is a mask and a kitchen knife.
Halloween Ends (2022) has more questions than answers but maintains that identifying evil is becoming increasingly difficult in this modern world. It is present behind the eyes of those around us, and if we are not careful, we, too, can become a monster.
Written for The Film Dispatch by Yasmeena Sulaiman