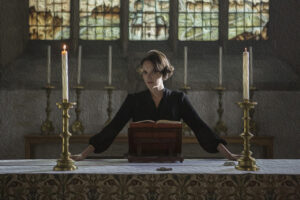 In 2013, Phoebe Waller-Bridge introduced the world to Fleabag as a one-woman show at the Edinburgh Fringe Festival. In 2016, the show was adapted for the screen for – tragically – only two seasons.

It is painstakingly honest and undoubtedly funny due to Waller-Bridge's ability to turn a dull situation into some of the most awkward moments imaginable. The dinner scene in episode one of season two can account for this. The show follows Fleabag (unnamed in the script) an emotionally damaged, guilt-stricken nymphomaniac who offers viewers a refreshing take on the 'anti-feminist' feminist. This contradiction lies in the fact that Fleabag presents a nuanced approach to the complexity of the modern woman. Although her character may seem unlikable due to her lack of empathy, inappropriate sexual comments, and questionable moral behaviour, viewers would be lying if they said they couldn't find a trace of relatability. 
Fleabag attempts to navigate life following the death of her best friend and business partner Boo (Jenny Rainsford) while being tormented by her brother-in-law (Brett Gelman) and her godmother (Olivia Colman). The series's perfect blend of comedy and tragedy can get audiences from laughter to tears in a matter of seconds. Waller-Bridge brings forth the renaissance era of priest characters by introducing the character of 'Hot Priest' (Andrew Scott), also unnamed in the script. Only Waller-Bridge can write a script that promotes sensuality and religion while making it undeniably addictive. Besides having female viewers questioning their feminist values, Waller-Bridge urges women to break out of their 'nice girl' personas.If Fleabag has taught us anything, it's that the nice girl finishes last. 
Written by Ciara Jordan for The Film Dispatch.