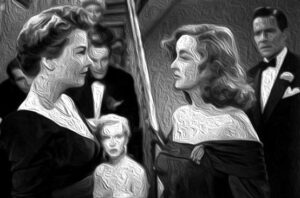 All About Eve (1950, dir. Joseph L. Mankiewicz) has one of the most memorable film lines. Bette Davis in full anger mode, eyes flashing, says ominously: "Fasten your seatbelts – it's going to be a bumpy night."
It must have been a bumpy, disappointing night for other Oscar contenders, as this film had a record of 14 nominations, seeming to dominate. It 'only' won 6 but they were major awards: Best Motion Picture, Director & Screenplay (both Joseph L Mankiewicz), Supporting Actor (George Sanders), Sound Recording (Thomas T Moulton). It also attracted the Best Costume Design – black and white for Charles Le Maire and Edith Head. As this armful of awards indicates, All About Eve has deservedly remained a film classic.
The plot concerns a young starstruck fan, Eve (Anne Baxter), who adores the theatre and an aging actress, the tempestuous Margot Channing (Bette Davis) who is very successful but worried that she's getting too old to play the leading parts. The circle around Margot includes her boyfriend, the theatre director, the playwright whose plays she stars in and the playwright's wife. Eve enters this circle and begins to affect the balance of the relationships. Is she as shy and adoring as she seems – or is she playing this part, like an actress? Opinions vary through the film.
This was a challenging year for the Oscar awards, yet another film about acting and Hollywood was in contention: Sunset Boulevard. It's easy to see how both of them would interest the professional Oscar voters. There are many excellent, quotable lines and the actors deliver them with relish. Bette Davis' diction, even when screen drunk, would bring tears of delight to an elocution teacher. 
When we first meet Eve, she tells a sob story which moves Margot Channing to tears, although Eve's sharp dresser (a deservedly nominated supporting actress, Thelma Ritter) says dryly: "What a story – everything in it but the bloodhounds snapping at her rear end."
The film is a fascinating study of the divide between the glamorous surface of the entertainment world and the film itself and reality. The film is based on a true-life event, Bette Davis and her leading man fell in love and got married in real life. Also, you can see a young starstruck actress on set, playing the part of a would-be actress, doing her best with the 7 or 8 lines she had: a very young Marilyn Monroe. She is listed among many names on the credits, around about where the font size of the names noticeably shrinks. If you get to see the official trailer, you will see people standing in front of a blonde woman twice- one of the few times she was upstaged.
Worth watching for the dramatic plots, twists, and turns, sparkling script, changing relationships and an unexpected ending. Never a dull moment with Eve.
Written by Heather Gregg for The Film Dispatch.