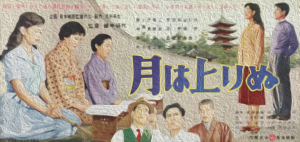 While there were many intriguing films shown at this year's Edinburgh International Film Festival, here are five that stood out to me.
The Moon Has Risen (dir. Kinuyo Tanaka, 1955)
This 1955 film follows the lives of a Japanese family with three daughters and their lodger. One sister conspires with the family's lodger to create a match between her sister and the lodger's friend. Then, finds romance herself. The moon is the ultimate matchmaker though, pulling the couples together beneath its light. The film is warm and funny, with moments of intensity and it has aged well. Its screening at the festival emphasises the importance of restoring older films so that their storytelling can be appreciated by new audiences.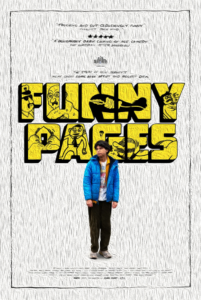 Funny Pages (dir. Owen Kline, 2022)
Before the screening began, Funny Pages was introduced and described as 'irreverent'. The film follows teenager Robert (Daniel Zolghadri) rejecting his privileged upbringing in order to pursue his art as a cartoonist. Along the way, Robert makes countless misguided decisions, leaving a trail of chaos behind him. Certainly, the film is saying something important about art, ambition,and youth. However, the film's brand of humour – with its nudity, slapstick, and cringe – might not be for every moviegoer. For those that enjoy it, Funny Pages will be an underground masterpiece – just like the funny pages that its protagonist so adores and aspires to create.
After Life (dir. Hirozaku Koreeda, 1998)
Many films are love letters to life but After Life is a particularly unique ode. In this Japanese film, after they die people arrive at a mysterious facility where staff inform them that they have a week to choose a single memory from their life. Then, the staff will recreate the memory on film. The memory of watching this memory-on-film is the only thing the visitors can take into their next life. To describe this film as life-affirming would be an understatement. After Life tells its characters – and audience – not just that perspective is everything when reflecting on life but that, our lives are valuable not because they are pleasurable for ourselves but because we have been loved by others. Although that moral may not be unique, the film definitely is.
The Apartment with Two Women (dir. Kim Se-in, 2021) 
The two women of the film are, crucially, a mother and a daughter. They are not only physically stuck in an apartment together but trapped in their own abusive relationship with each other. Featuring verbal, physical and emotional abuse this is not a film for a cosy Sunday night. Rather it presents a harsh portrait of two women, both making mistakes not just in their relationship with each other but in their interactions with others. You feel pathos and disgust for both characters in equal measure. Although the film feels important, the lack of a resolution is  frustrating. Though the mother and daughter are  finally free of each other's toxicity by the end of the film, there is  little suggestion that either character will grow beyond their own toxicity.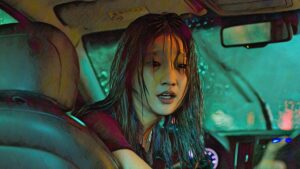 Special Delivery (dir. Dae-min Park, 2022)
After watching a number of thought-provoking and at times heavy films, Special Delivery was a great way to close the festival. In the vein of Transporter or Fast & the Furious, this film follows blackmarket getaway driver, Eun-ha (Park So-dam, of Parasite fame), tasked with making special and typically dangerous deliveries. The film features a creative car chase early on, giving the audience a taste of what's to come and the pace stays high octane throughout. The casting raises the film above other generic getaway driver films. Park So-dam affirms her place as an actor to watch and it is gratifying to see her embody and excel in the main role. So-dam hits all the right notes as the reluctant hero called to rise to the occasion. Oftentimes it can be uncomfortable to watch child actors but Hyun-jun Jung as Seo-won was natural and sympathetic. As a thoroughly enjoyable action romp, this film is one to look out for on the big screen.
By screening recently restored films like The Moon Has Risen and the debuts of new artists, like Owen Kline's Funny Pages, film festivals like EIFF not only expand an individual's horizons but, also, expand the horizons of cinema itself. 
Written for The Film Dispatch by Niamh Carey-Furness.