Three Tips on Home Study…
Three Tips on Home Study…
…by Yuxuan / from China / MSc Science Communication and Public Engagement / 1st Year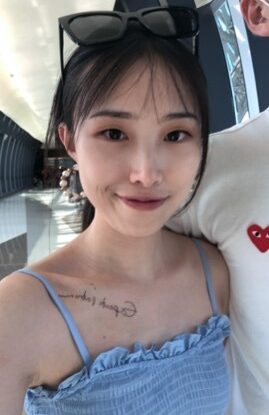 Hi, I'm Zheng Yuxuan, first-year master student majoring in Science communication and public engagement.
I don't know if you have ever imagined that one day you could lie in bed for class. I thought about it, but I never thought that this would really happen. What is even more exaggerated is that most of my one-year master's studies can be spent like this…if I want…because both semester 1 and 2 are/will be online courses.
Faced with this situation, I regret not being able to personally experience the atmosphere of a British university classroom, and I am also delighted to be able to stay in a warm home and eat the meals my parents cooked.
However, what I need to consider most is how to study efficiently in the case of long-term remote classes. The following is the experience I summarized during the first semester, which may be helpful to you.
Value the sense of ritual of learning
Although I have imagined countless times that I can go to class without getting up, but if I really do that, I will soon be sleepy and distracted. Therefore, I need to actively create a learning atmosphere for myself.
For example, I go out for a walk for about ten minutes before live sessions every day, pretending to be on the way to the classroom. Don't underestimate these ten minutes. This not only allows me to breathe fresh air and make my brain more awake, but it also gives me positive psychological hints and indicates that I will concentrate in class. In addition, change your clothes, tidy your desk, and prepare computers, notebooks, pens and water glasses. This arrangement of ritual sense will also give yourself a certain psychological positive hint.
Shield outside interference
When I was studying at home, it was inevitable that this situation occurred: I was typing fast in front of the computer, and my dog yelled at the dog outside on the balcony. I was discussing my essay with my tutor and my mother suddenly appeared and stuffed an apple in my mouth.
Studying at home is both happiness and trouble. Your life will be taken care of, and your studies may be interrupted at any time. Therefore, before live sessions, I will tell my family to try to keep absolutely quiet during this period so that I can concentrate on the class. I believe that the family will always understand and support it.
Keep social
After I took online classes for more than a month, I found that I stayed at home every day, whether it was live sessions or discussing with classmates, all of which were done facing the computer. I thought my life was very monotonous, and even felt a bit lonely. It's not like when I was an undergraduate, I stayed in a dormitory with my classmates, we went to classes and ate together. At that time, I saw many people and talked to many people every day. Online classes made me lose the social activities I should have. When I felt this, I began to adjust my mentality. I knew that this state was very bad for my mental health.
So, I invited friends who were also having online classes at home. We took different classes and wrote different essays, but our bodies stayed in one space, and we could chat for a while from time to time. This made me feel much happier.
In addition, I actively meet with friends. Sometimes I go to the library, where many people are studying. Real people and people in the video feel completely different. What we need is real social interaction.
In the face of distance learning, we all have many difficulties to overcome, but this is indeed an unforgettable and special experience.