For those of you not aware of the Edinburgh Fringe Festival, it's quite the experience. For one month of the year, the city is transformed as it hosts the world's biggest arts festival: university buildings host shows, pubs and bars stay open to the early hours, and lots of students earn some extra cash by working in hospitality. Our student blog writer, Karen, has buckets of advice to share about her experience working at Edinburgh Fringe. 
If you're looking for a fun and rewarding summer job as a student, look no further than the Fringe Festival! As a student working at the festival this year, I can tell you first-hand that it was a fantastic experience.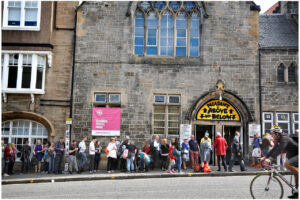 The selection process for the festival was a bit unusual for me, as it involved a recorded interview. If this is your first job, I recommend reaching out to your university's career service for tips and advice. Keep in mind that the selection process can take some time as the festival receives a lot of applications. In fact, by the time I received my acceptance letter, I had almost forgotten that I had applied! So, don't lose hope if you don't hear back right away.
Once I got the offer and completed my training, I was thrilled to start working as a bartender and selling drinks at the foyer of Pleasance, which is normally the University's gym and indoor facilities, but hosts lots of shows over the course of the festival. The atmosphere was lively and fun, and the people were friendly and appreciative. It's a great feeling to help contribute to the festival's success while also having a good time yourself. It can be tiring sometimes, but on busy days, you don't even notice, and your shift is over!
One of the biggest perks of working at Pleasance is that you get to see shows for free! If you're passionate about theatre, musicals, and performances in general, this is an opportunity you won't want to miss. So, if you're looking for an enjoyable and rewarding summer job, consider applying to work at the Fringe Festival. Who knows, you might just have the time of your life!