We are delighted to welcome a new postgraduate writer, who along with our existing writers will be sharing their experiences and thoughts on the things that matter to them. Meet the newest member of our team! 
Welcome to the Students at SPS blog!  
Mary
Subject: MSc Global Health Policy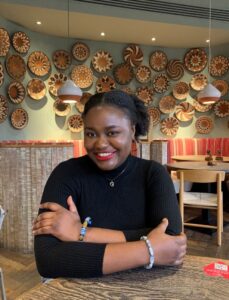 Hello, everyone! My name is Mary, and I am a postgraduate student at the University of Edinburgh studying  the MSc Global Health Policy. I'm from Nigeria, and my favourite things about Edinburgh are the people and places; the city is full of historical landmarks and kind people who are always willing to assist in times of confusion with either bus routes or great cafes.
The programme content is the main reason I chose the University of Edinburgh. I sought a diverse set of modules that will broaden my understanding of sustainable health institutions and policy implications for vulnerable populations in low- and middle-income nations. This course has proven to be extremely useful in assisting me in identifying the intersections between key concepts in global health such as political economy, population health, and policy studies, thereby providing me with the knowledge and skills necessary to achieve my career goal of becoming a Health Systems Expert. I appreciate how diversified my modules are while still retaining a global health focus. The most important thing I'll take away from this course is the ability to plan my own PhD route.
Apart from classes and assessments, I enjoy going for walks about the city, such as down Princes Street and up Arthur's Seat. I had the opportunity to visit the University's Firbush Outdoor Centre, and it was one of the most memorable experiences I've had at this institution. While the transition from a warm climate like Nigeria to a very chilly Scotland was daunting, I have thoroughly enjoyed my stay here so far and have even adapted to the weather.
I am so elated to join the team of bloggers of the Student Ambassadors! Looking forward to writing great pieces.