We are delighted to welcome a new undergraduate writer to the Students of SPS blog, who along with our existing writers will be sharing their experiences and thoughts on the things that matter to them. Meet the newest member of our team, Shreya!
Welcome, Shreya!
Subject: History and Politics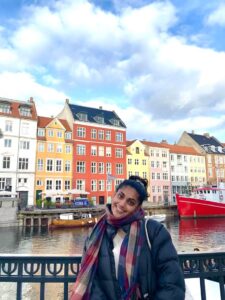 Hi everyone! I'm Shreya, a fourth year History and Politics student. I live in South London with my family, who originally come from India.
I have just returned from a year abroad at the University of Oslo, Norway and will definitely be writing about my experience there in upcoming posts. Having been away from Edinburgh for a whole year – and my first and second year being tainted by Covid – I am very excited to be back in Edinburgh and to immerse myself in everything the city and University has to offer!
On top of my degree, I am the Secretary of the History Society and an active member of Girl Up, a UN initiative to alleviate girls and women from poverty around the world. I enjoy playing sports, especially rugby and hockey, and am a keen sewer and reader.
I don't have much experience in blog writing, however on the few times that I have written about Edinburgh I loved it. I hope you enjoy reading my blogs as much I do writing them – thanks for reading!