Blog by Laerke, Sustainable Development
No matter which side of town you're on, you can see him. Rising above the city, Arthur's Seat and Salisbury Crags are a magical piece of countryside in the middle of the capital.
Join Lærke for a walk through the seasons on this quintessential part of Edinburgh.
Autumn
As an international student, I often return back to Edinburgh in September, ready for a new academic year to begin. With the leaves slowly falling and the winds coming in, the city may seem to lose some of its summer colour. Depending on how closely you look, that is. Nestled between nettles and thorny gorse, little dots of red are hiding all around Arthur's Seat, ready to be picked. Take a short walk around Holyrood Park, the former royal hunting ground that makes up Arthur's home, and you will quickly fill up tub after tub of deliciously ripe brambles and elderberries dangling in clusters from above. Lots of jam to indulge in over the winter months!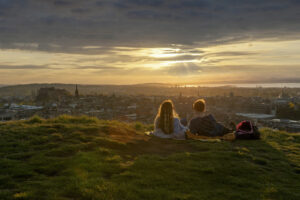 Winter
Finally, the leaves will all be on the ground and the views from the many paths up our beloved hill will be unencumbered. With the canopies gone, an afternoon escape from essays up Arthur's Seat means views of all of Edinburgh, the whole way up. Bring a thermos and a couple of pals to escape the hustle, bustle, and essay kerfuffle below. Nothing quite warms the heart like a winter sunset from atop the city.
If you're lucky, you may even get to see Arthur majestically clad in snow! In my four years here, we have had snow every winter, although none as dramatic as the infamous Beast from the East back in 2018. Living in halls right next door to Arthur's Seat, my (Southern) American flatmate and I went for a stroll in the meter high snow. I don't think she'll ever forget how majestic Scotland looked blanketed in snow! And I'll certainly never forget the three boys who sledded down in a bathtub.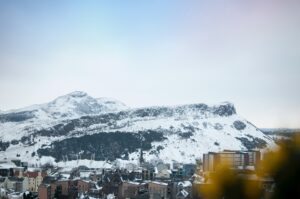 Photo by PURE · VIRTUAL on Unsplash
Spring
Even though winter holds its own adventures, there's nothing quite like the coming of spring. All around the city's water ways, the wild garlic and leek fills the air, and little crocuses line the Meadows in purple and yellow stripes. In the distance from my kitchen window, spring works its magic as Arthur turns from browns and greys to technicolour yellow: the gorse is in bloom. Driving around Queen's Drive, the air smells faintly of coconut as the prickly gorse takes over the hill sides, starkly contrasting the bright, blue skies above. In the hidden, rolling hills behind the Crags, sunbathers spot their chance to get a bit of colour. The leisure-runners come out of their hibernation, huffing and puffing up the steep, front steps to the top. It's a vibrant time on Arthur's Seat in spring, for plants and people alike.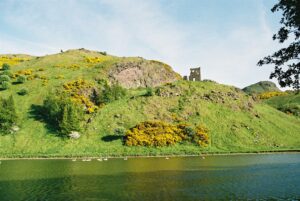 Photo by Jasmin Gorsuch on Unsplash
Summer
If you're not from Northern Europe, Scottish summer may seem like nothing more than a prolonged early spring. No, it usually doesn't reach 30 degrees Celsius in Edinburgh, and yes, a hot drink may be preferable to an iced latte, even in August. But don't let the temperate weather fool you too much; summer in Edinburgh is a treat, and Holyrood Park is an amusement park just for us to use. On warm days, when the Meadows are filled to the brim with barbeques and blankets, an escape to Duddingston Loch is the only thing that can cool the mind and the body. With excellent running and cycling routes through the Innocent Railway and Queen's Drive, there's no shortage of ways to reach this little gem of a bird reserve. Perched on the cliffs above the loch with Arthur's walls behind you, you'll be hard pressed to find a better afternoon reading spot.
Even after four years next to this green giant (no, I am not from a mountainous country) in my backyard, I still pinch myself to remember it is really true that I get to walk, smell, cycle, forage, and run around Holyrood Park any day I wish. With a never-ending network of paths and plants, a day spent on Arthur's Seat is always different – perhaps you will find your favourite path hidden away somewhere behind the gorse.