It's a well-known fact that many of us can't start our day without a morning cup of coffee, requiring the caffeine to kick start the day, or to act as a pick-me-up after hours of studying. In fact, according to the British Coffee Association, more than two billion cups of coffee are drunk worldwide every day, with around 95 million of these cups being consumed in the UK alone. Donna is here to introduce you to her favourite Edinburgh coffee shops.
By Donna, Social Work
Coffee isn't just a drink, it is also a means of social interaction. Coffee shops offer a sense of community, providing space for individuals to work, study and socialise. Outside of London, Edinburgh has the largest number of cafes and coffee shops per head of population, with a huge range of chain and independent venues available. 
Specialist cafes are located throughout the city offering delicious drinks, and cakes of course, in some amazing locations. Being a self-proclaimed coffee and cake fiend, I have visited many of these over the years and I have compiled a list of my favourites so far, although I'd love to hear any suggestions – especially if I have missed off your favourite shop! 
77 Queen street
A stone's throw away from Princes Street, Fortuna Coffee Bar is an ideal spot to enjoy a coffee whilst on the go. This family run café offers good quality, locally-sourced products. The extensive drinks menu is complimented by a tasty breakfast and brunch menu, with options including cheese and ham croissants and sourdough toast with scrambled egg. Prices are affordable and portions generous making this a great choice for a quick bite.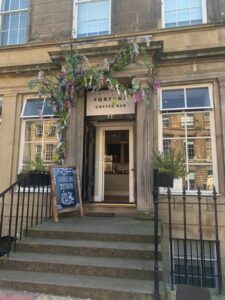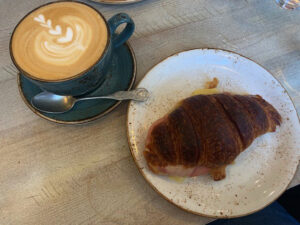 155 West Port
Located in the West Port area, Lovecrumbs is an intimate but quirky café, serving up a large selection of specialty coffee and loose leaf teas. Often busy, Lovecrumbs focuses on what really matters in life…cake, with a large and delicious collection of homebaked goodies on offer each day. Visitors can enjoy their coffee whilst catching up with friends, choose to watch the world go by in the window seat or make use of the free Wi-Fi while finishing a last-minute assignment with a tasty treat.
I love the vintage feel the shop has, from the cakes being served, a large wooden dresser (pre-Covid unfortunately!), the piano that doubles as an additional table, right through to the retro feel of the toilets!
7 Cockburn Street
A cosy and charming coffee shop with friendly and knowledgeable staff and equally impressive coffee, with a good selection of pastries to accompany, including vegan and gluten free options. Located just off the Royal Mile, The Milkman is popular with locals and students alike. Wi-Fi is available, making it a good spot to catch up with some work while enjoying the tasty offerings.
The shop is quite small inside, meaning there may be times you'll have to wait for a seat, but there is some outdoor seating available to enjoy watching the world go by on a nice summery day.
3C York Place
Located just around the corner from the bus station, nestled amongst the terraced buildings of York Place, is Fortitude Coffee, a convenient stop when in town. Fortitude is small inside, but offers an intimate and cosy experience, that doesn't feel too busy or overcrowded.  Specialising in espressos, brewed with Workshop coffee, you can be guaranteed of a decent caffeine fix when needed. The expert baristas can also craft exquisite flat whites and lattes for those who prefer their coffee a little less strong. Fortitude have teamed up with other Edinburgh-based businesses such as Lovecrumbs, Union of Genius and Anteaques to offer a tasty selection of teas, cakes and soups.
Free Wi-Fi makes this an ideal place to catch up with friends and work.
Nicolson Street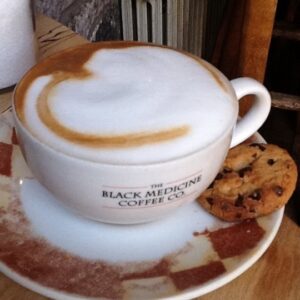 Conveniently located near central campus and popular with students, this busy little coffee shop is great for catching up with friends and getting some studying done. Staff are friendly and knowledgeable and the warm atmosphere quickly makes you feel relaxed and welcome. The coffee is served strong and the cakes and paninis are always delicious, plus there is a large selection of vegan choices.
The décor is quirky and dark, with stone walls and seats and tables carved from wood.
Seating is available both upstairs and downstairs and it has been suggested that J. K. Rowling wrote some of the early chapters of Harry Potter in the first floors of the building.