Donna reflects on her first two years at the University and the route she took to studying Social Work at the School of Social and Political Science, balancing lockdown, her family and studying, and the support she's received from the University.
There are so many reasons to study at the University of Edinburgh, and everyone has their own reasons. It might be down to the beautiful city, the amazing reputation the University holds, the wide range of subject choices or because of the diverse student body. For me, it's the support and understanding I have experienced from day one, which has ensured I have continued to succeed, despite doubting myself at times.
My journey to university wasn't exactly straight forward
If you had told me I would be studying a degree at the University of Edinburgh a few years ago, I would have probably laughed at you. There was no way that someone like me, who left school at 16, with some less-than-impressive GCSE results, would be able to study in one of the top ranked universities in the world (in fact, the University was recently ranked 16th in the 2022 QS World University Rankings!). It just wouldn't have been possible.
Except, here I am, about to start my third year studying towards a degree I always wanted to do. I'm meeting new people, achieving good grades and actually enjoying writing assignments…most of the time. And it's all down to the support I've received from the University. They have believed in me, provided encouragement when I have doubted myself and ensured that I have received the support and guidance required to succeed.
Growing up, my parents had fostered for several years, and we had been assigned a social worker. Marion was loud, funny and a little scatterbrained, but she was also warm, approachable and she had a positive impact on people's lives when they were at their most vulnerable. I wanted to be just like her, but I struggled throughout school to get the grades required to study at university. I found it hard to stay focused and often struggled to keep up, which I found embarrassing. So, I left school as soon as I could.
Finding the University's Access Programme
Roll on 15 years and I was living not far from Edinburgh with my husband and two children, working in a role I enjoyed but had no scope for progression, and I wanted more. I discovered the University's Access Programme, aimed at adult returners who were looking to gain the qualifications required to study at university. I apprehensively applied and was accepted, and it changed my life.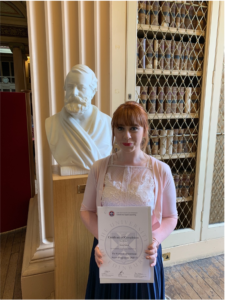 Using the Student Disability Service
The support I received from my lecturers, personal tutor and course organiser was immense. They ensured I believed in myself and received the support I needed, suggesting I visited the Student Disability Service to be screened for dyslexia. After receiving my diagnosis, everything slipped into place. I now understood why I had struggled at school. My diagnosis meant I would receive the support I required – I achieved the grades I needed and was accepted onto the Social Work degree at the University.
Since moving on from the Access Programme and into full-time degree study the support and guidance from staff and other students at the University has remained unfaltering. There is always someone available to talk to when I'm struggling or needing some advice and it is the supportive nature of the University that has allowed me to continue to develop my academic skills.
Settling into University life
Whilst I have officially been enrolled on my degree for two years, it has flown by. I soon settled into the routine of university life of attending lectures, building upon my teaching in tutorials and battling my way through the reading lists. I met new people who, without university, I would never have crossed paths with. These people have now become some of my closest friends, always happy to meet for a coffee and complain about looming deadlines with me, and always around to remind me that at the end of the day, I can do this! I cannot now imagine a life without them.
Studying through lockdown
At times I still struggle with self-doubt, managing workloads and sometimes feel I am out of my depth. This hit me hard halfway through my second year when we were in yet another lockdown. I was attempting to study from my kitchen and my family kept appearing to make yet another snack. I couldn't focus my attention on my work and deadlines were looming, I was becoming stressed and unable to concentrate. After a particularly hard day, I decided to send my personal tutor an email and within half an hour she had set some time aside to call me. Just having someone to offload my concerns to was amazing and with her advice and guidance I was able to put in strategies to help me cope with my stress, allowing me to get on top of my workload and submit my final assignments of the year, which felt amazing!
I am now looking forward to beginning my third year and starting my first placement in February. I plan to be a little more organised and know that with continued support from the University, I'll manage just fine.
Header image by Gabriele Stravinskaite on Unsplash.