Hello, folks! I'm Verity, a fourth-year undergraduate student on the Archaeology and Social Anthropology programme, which means I've got a foot in two schools that are conveniently located next door to each other in the Central campus area. Top tip – finding the corridor that connects the Old Medical School to the Chrystal Macmillan Building can shave precious minutes off the time it takes to get to class! I've taken about half my courses in the School of Social and Political Science and half in the School of History, Classics and Archaeology, and found that a joint honours course is a great way to understand ideas from different perspectives and study a range of things so that you don't start feeling fed-up with your degree.
Aside from academics, I love the society and volunteering opportunities that are available at Edinburgh. I've dipped in and out of various groups in my four years, with the inevitable COVID interruptions that changed the way societies were able to run for a while. There are lots of great student publications I've been involved in as an editor or writer, some journalistic and some academic, including Retrospect, Re:think, The Broad and Leviathan.
I enjoy feeling part of the city and its communities rather than just a student in the university bubble, so I've taken volunteering opportunities that serve people beyond the university. I've taught progressive sexual education at local secondary schools with the Sexpression charity and done conservation work all over Edinburgh and Midlothian with the Dirty Weekenders conservation society. Once you start looking, there are so many ways to become involved and to feel at home in Edinburgh.
I've also appreciated the information that different schools and groups share about how to take your studies and interests further afield through summer roles. Without the Archaeology Society's fieldwork fair and various handy newsletters, I would never have found out about the Off the Beaten Track Anthropological Fieldschool in Malta or the Scottish Crannog Centre, where I've had such rewarding experiences. There are chances to learn more about your subject outside the classroom during term-time too, through joining the relevant academic societies (in SPS these include the Social Anthropology Society and the Edinburgh Political Union) or going along to the many free seminars and talks where academics discuss their current research.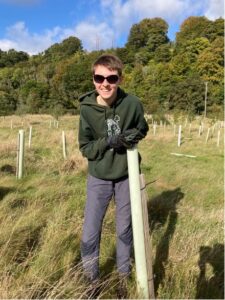 In my spare time, I love exploring Edinburgh's museums, cafés and green spaces. The city has so many scenic walks, cultural attractions, parks and more to explore!