Moving away from home for university can lead to some anxiety about your new home. Take a deep breath. University accommodation is welcoming and designed to help you feel at ease and comfortable with your space. Lulu is here to tell you about her experience. 
Creating a new home at the university should be a fun experience! I remember my first day at Pollock Halls as a first-year student. I was so excited to be away from home and finally start life as an independent student. I will share with you some tips on preparing for the move and what to expect from my personal experience living in some university accommodations in the city.
Please note that the accommodation sites shared here are not the only ones available. The University of Edinburgh has its own accommodation service with buildings in over 40 locations within the city for both undergraduate and postgraduate scholars. While most of them are self-catered, catered accommodation is also an option at Pollock halls.
Preparing to Move
This may be the first time some of you have lived away from home. Be sure that you mentally prepare yourself for a new environment that may be different from what you're used to. For self-catered sites, knowing how to cook can come in handy as it helps you save loads of money from takeaways and Tesco meal deals.
Double check if all your essentials are packed. Don't be basic, you can pack some home comforts and decors that remind you of home. This can be anything from a picture of your dog, a desk lamp, or some light speakers. Most university students like to decorate their rooms with LED lights, so could order yourself some in advance.
Just remember, your accommodation space is simply your home away from home. This is where memorable events will happen; friendships being made, first all-nighter, etc. Just prepare to personalise your space.
Arriving at Pollock Halls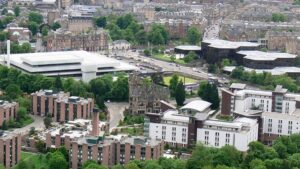 This is an accommodation site resembling a little student village as it consists of various houses on one campus with a dining centre (JMMC) where meals are served twice per day. Pollock halls are approximately 20 minutes away from the Central Campus making it easier to commute back and forth. I particularly like how it is close enough to be accessible but far enough to help you separate your private and school life.
What to expect
The staff and students are nice so don't be afraid to smile and say hi to someone.
Finding your way around Pollock can be challenging for the first few days but you'll soon find it hilarious if someone calls it a 'maze'.
If you're someone like me who prefers spicy food, then you're better off bringing some spices from home. The food is ideally presented so that everyone can enjoy it.
Rooms are cleaned weekly so all you need to do is keep your space organised.
Resident Assistants usually organise various social events between Houses. So, if you haven't already made friends from JMCC and your house, this would be your time to shine.
The rooms are a good size. I stayed in Turner house and I was very content with my single bedroom which contained a personal sink, a study desk, and a beautiful view of Arthur's seat. Pollock's houses are all different and it would therefore be difficult to make a generalisation.  Some houses have en-suite bathrooms while others have shared bathrooms.
Flares and puff jackets. So many students wore these at my time there that it almost felt like the Pollock uniform.
Salisbury Court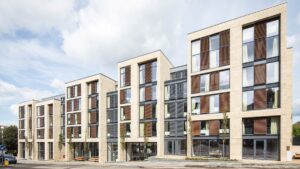 This is a very modern building located about 5 minutes away from Pollock. I stayed in a flat with 7 other flatmates which had a shared kitchen. For self-catered, I considered this the best option for me because it is only about 15 mins away from the Central Campus which is where all my lectures are held. The kitchen is very spacious with a lot of storage spaces which helped me explore my hidden cooking and baking talents.
What to expect
Beautiful common room with several game tables (Pool table, Ping pong etc)
The accommodation is divided into four Blocks (A -D) with the main reception and the laundry area in Block D.
My room at Salisbury was a tad smaller than the one I had at Pollock. However, having a double bed and an en-suite bathroom made up for it.
Be prepared to live with others. Recognize that we're all different as students, therefore, issues with using shared spaces may arise. It's good to form a routine for cleaning shared spaces although weekly cleaning is done.
Always carry your key card with you.
Friendly students and staff.
Most accommodation sites are quite similar, something I noticed when visiting friends. They lived in various places like Haddington place, Murano, Brae House and Shrubhill. My personal experience with university accommodation has been pleasant. At the end of the day, I have been able to create a home and make friends and memories. I hope you have a great time in your new home!