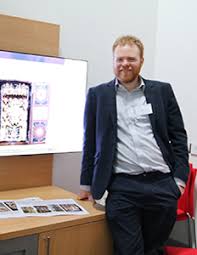 James joined the Reid School of Music in 2017, having previously been a University Teacher in Music at the University of Sheffield, a Lecturer at Bangor University, a Supervision Tutor at the University of Cambridge, and an Adjunct Lecturer at the University of Nottingham. After completing his doctorate on Fifteenth-Century English Mass Cycles, supervised by Peter Wright and Philip Weller, James held a number of short-term post-doctoral fellowships followed by a Postdoctoral Fellowship of the Society for Renaissance Studies, during which he worked on the apparent decline in interest in English music in the later fifteenth century. He works mainly on early music and is especially interested in music of the fourteenth to sixteenth centuries.
James is also interested in the representation of early music on stage and screen, be that the use of 'real' early music in multimedia productions, the imaginative re-scoring of historical dramas, or even the popular medievalism of the fantasy genre. He was co-founder of the REMOSS (Representations of Early Music on Stage and Screen) study group which organises regular roundtables and conferences in this area. If you'd like to hear more, please do sign-up to their newsletter (REMOSS@jiscmail.com).
James has published on both 'traditional' aspects of early music and on its reception in popular culture. His co-edited book (with Alex Kolassa and Adam Whittaker) Recomposing the Past: Representations of Early Music on Stage and Screen was published by Routledge in the Ashgate Music on Screen series, to be followed shortly by his monograph The Cyclic Mass: Anglo-Continental Relations in the Fifteenth Century. James is involved in a number of large research projects alongside Space, Place, Sound, and Memory, including the 'Music and Alabaster' project hosted jointly at the Universities of Nottingham and Birmingham, and the 'Prosopography of Pre-Reformation English Church Musicians', hosted at the University of Huddersfield and Royal Holloway, and is always looking for more collaborations.
Outside of the University, James works with the internationally renowned ensemble The Binchois Consortas Scholar in Residence, is the Treasurer of the Society for Renaissance Studies, and also sits on the British Academy's Early English Church Music Fifteenth-Century Sub-Committee.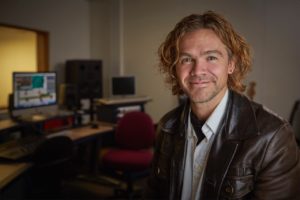 Kenny McAlpine joined Abertay University as part of the team who developed the university's degree programmes in Computer Games Technology and Computer Arts in the late 1990s.
After completing a BSc in mathematics, Kenny embarked on a PhD in algorithmic music composition at the University of Glasgow, bringing together his love of music, maths and technology, and continues to work at that point where different disciplines collide: he has developed interactive soundtracks for live theatre; a music-streaming app for young children, developed in partnership with the Scottish Government and the Royal Scottish National Orchestra, and a unique digital harpsichord exhibit for the National Trust in London.
Outside of academia, Kenny continues to perform live from time to time as a jazz organist and can often be found playing covers of classic 8-bit video game themes, about which he is currently writing a book for Oxford University Press. When he's not thinking about music, he can generally be found rolling around the hills of Fife on a mountain bike with a GoPro strapped to his handlebars, huffing his way round a marathon course with a GoPro strapped to his chest, or baking artisan bread. Normally without the GoPro. He is a regular tweeter at @TheSonsieBogle
Rod Selfridge is currently a research software developer  within the Reid School of Music at The University of Edinburgh. He is responsible for implementation of the software to model the room acoustics, developing the 3D models within the game engine, accurately representing the spaces in the present and past. He also liaises with our partner agencies in order to ensure historical accuracy with the objects and materials within the virtual environments.
Prior to working on this project Rod was studying at the Centre for Digital Music and Queen Mary University of London and has been writing up his PhD thesis on Real-Time Synthesis of Aeroacoustic Sound Effects,. This involved an in depth study of the fluid dynamic processes that generate sounds and implementing these as physical models within the graphical programming language Pure Data. Rod was part of the Media and Arts Technology Doctoral College at Queen Mary which entailed a one year Masters Programme, including a 6 month placement within the BBC R&D department.
Before returning to academia, Rod was a full time police officer in rural Scotland for 12 years. To facilitate his career change he completed an MSc in Digital Music Processing part time over two years, graduating in 2011.
Rod is a keen amateur musician mostly focusing on acoustic guitar and vocals. Most weekends he fits in time to jam with his brothers and friends. He has also carried out sound design for his local theatre club's pantomimes. He maintains a blog site, rodselfridge.wordpress.com and tweets regularly, @RodSelfridge.