March is epilepsy awareness month and we have been speaking to colleagues at the University of Edinburgh about their research. We were delighted to hear from Professor Richard Chin, Chair of Paediatric Neurology and Clinical Epidemiology and Consultant Paediatric Neurologist.
What are your current roles and what do they entail?
I have a clinical role as a Consultant Paediatric Neurologist specialising in taking care of children with epilepsy, a research role with a focus on improving the outcomes of children with epilepsy, and a management role as clinical director of the Muir Maxwell Epilepsy Centre at the University of Edinburgh.
In a nutshell, how did you get to where you are now?
I trained initially in Jamaica where I was born, came to the UK as a Commonwealth Scholar, did my PhD and further training in paediatric neurology before being appointed as Clinician Scientist and Consultant at Great Ormond Street Hospital and UCL Institute of Child Health in London, before coming to Edinburgh to head up the Muir Maxwell Epilepsy Centre. All of this would not have been possible without the strong support of my family, great mentors, hard work and a bit of good fortune.
Why did you choose this career path?
I had wanted to be a doctor from an early age to help people but also because of the financial security (very important in a low income country where I grew up).  When I went to medical school I found that I enjoyed paediatrics most although I was also very good at other specialties and wanted to follow in the footsteps of the Professor of Paediatric Neurology – a superb doctor and human being. My clinical interest in epilepsy was largely influenced by how common it was and my research interest because of the lack of knowledge in causes, best treatments, and optimum management of coexisting learning and behavioural problems.
You split your time between research and clinical work, how does that work and how do they link together?
They are very much intertwined and have a common goal to ultimately improve the lives of children with epilepsy and their families. The clinical work helps us to identify questions that are important to patients and their families (for example what are the best ways to identify and treat cognitive problems in children with epilepsy), and enables us to identify suitable children for our own research and that of others. The research allows us to improve understanding of the underlying condition, develop better treatments and boost quality of life.  Half of my time is devoted to research work and half is on clinical work so I have designated days and times during the week designated for either.  However, very often I do work, especially research work, in the evenings and on the weekends.
What is your current research focus?
My current research focus is developing methods and technologies for the acquisition, processing, and study of patient data (health informatics) to determine health, education and social outcomes of people with epilepsy, the risk factors for worse outcomes, and carrying out trials to improve outcomes.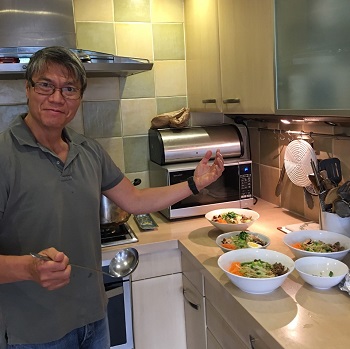 What are your hopes for the future?
Continuing to find ways to prevent epilepsy, and for when we cannot prevent epilepsy to have earlier diagnosis, quicker identification of underlying cause, precision treatments for seizures and associated learning and behavioural problems, and no stigma surrounding it. I have hopes of greater collaborations between medics, pre-clinical scientists, engineers, public health experts, patients and their families.
What do you enjoy doing in your free time?
I enjoy cooking, exercising and spending time with family and friends.
Do you have any tips for medics looking to pursue a career in research?
Try hard to place yourself in a research friendly and productive environment. Look out for research leaders and try working with them. Be prepared to work effectively and efficiently and accept that such work will often initially be unpaid (for example aiding with study recruitment/visits) and has to be done in unprotected time (for example during days off when post night shifts).