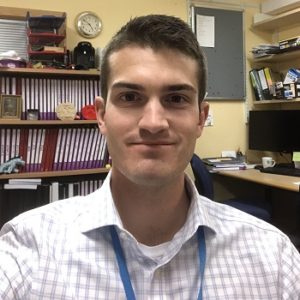 Clark Russell is a medical doctor training in infectious diseases and microbiology. Prior to the COVID-19 pandemic, he was undertaking scientific training through a PhD in immunology as part of the Edinburgh Clinical Academic Track.
Understanding the immune system
Pre-pandemic, Clark was working in the Dockrell Laboratory in the Centre for Inflammation Research. Using a combination of a cell culture model and genomics, Clark would investigate the ways in which bacteria that are unusually virulent have evolved to avoid being killed by immune cells called macrophages.
Clark is interested in using examples of bacterial adaptive evolution to understand more about the human immune system, particularly which immune responses have successful pathogens evolved to evade?
Pausing the PhD 
At the end of January, Clark decided to put his PhD project on hold to allow him to work full-time on COVID-19 with Dr. Kenneth Baillie.
"I'm very grateful to my PhD supervisors and Wellcome for allowing me to do so," he says.
Clark currently works on a clinical characterisation study of COVID-19 and a scientific study of COVID-19 pathogenesis using tissue obtained from fatal cases of the disease. "I usually work in the hospital once a month, helping to look after patients with infectious diseases, which of course recently has become almost entirely COVID-19" explains Clark.
Multiple studies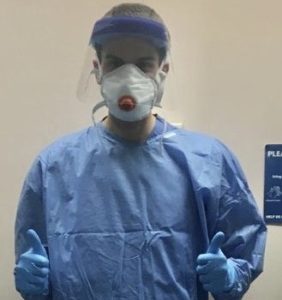 As part of the ISARIC clinical characterisation group, Clark works with clinical researchers worldwide on modifying a research protocol for studying emerging infections for COVID-19.
The research protocol is available open-source for anyone anywhere to modify and use, aiming to facilitate harmonised research during outbreaks to generate answers more quickly.
"I am part of the ISARIC Coronavirus Clinical Characterisation Consortium in the UK where we are using a version of this research protocol to collect clinical data and serial biological samples from hospitalised patients with COVID-19 to describe clinical features and investigate disease mechanisms," explains Clark.
In Edinburgh, Clark is involved in a study collecting and analysing tissue from patients who have died due to COVID-19. "The mechanism of lung and other organ injury in COVID-19 remains incompletely understood and obtaining tissue samples post-mortem provides an opportunity to study pathogenesis in a level of detail not possible during life," says Clark.
Additionally, Clark also works with a group of biologists and bio-informaticians in the Baillie Lab at the Roslin Institute, generating a list of human genes with pre-existing biological evidence to suggest a role in susceptibility to coronavirus disease that can be investigated further.
Inspiring colleagues
Clark says it has been a privilege to be working with 'inspirational and brilliant people' from around the UK and around the globe.
"I have learnt a huge amount from them in the process. So from the perspective of scientific training this has been incredibly valuable," he says.
"Observing these traits in colleagues responding to COVID-19 has been very gratifying. It has also been inspiring to see nursing, medical and laboratory colleagues in the Infectious Diseases Unit and diagnostic lab rise to the challenge of COVID-19. They have been working flat-out on this disease since January."
Not so great at hairdressing
Outside of work, Clark enjoys running a bit more, while he has also had an  unsuccessful venture into hairdressing.
"Since I haven't been able to get a haircut due to the lockdown I tried my hand at cutting my own hair recently, which went very badly indeed" he says.
Probably best to stick with the medicine then.
Find out more about the ISARIC clinical characterisation group 
Find out more about the ISARIC Coronavirus Clinical Characterisation Consortium in the UK 
Visit the Baillie Lab web pages