Thomas Williams is a respiratory paediatrician undertaking a Wellcome Trust funded PhD in Basic Science.
When the first Covid-19 case was recorded in Scotland, Thomas was invited to help set up a nanopore sequencing programme aiming to track the spread and diversity of the virus UK wide.
Clinician turned PhD student
Thomas was a paediatric registrar at the Royal Hospital for Children and Young People and the Neonatal Intensive Care Unit at the Royal Infirmary of Edinburgh before commencing his PhD at the MRC Institute of Genetics and Molecular Medicine in 2016.
In his PhD, Thomas looked at how DNA (the instructions for all of our cells) copies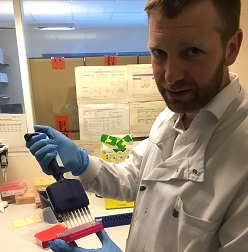 itself, and how mutations might occur during this process. Part of this involved a process called nanopore sequencing- where you take DNA and put it in a sequencer attached to a laptop, and get the results back within a few hours.
Thomas is also involved in research related to respiratory syncytial virus (RSV), which causes a disease called bronchiolitis in young children. He has been part of a large World Health Organisation program which is planning to sequence RSV samples from around the world to better understand the disease. RSV, like the novel coronavirus, is an RNA virus.
A typical day pre-pandemic
A typical day for Thomas would involve growing yeast cells (a good model for how DNA copying- replication- works) or human cells to look for mutations in the lab plus some nanopore sequencing at a laptop at his bench. The rest of his PhD time would be spent doing computational analyses of the data.
A typical day now
When the first coronavirus case was recorded in Scotland Thomas was invited to help the Royal Infirmary of Edinburgh Laboratory team set up nanopore sequencing for the novel coronavirus.
Using reagents and equipment donated by the University of Edinburgh, the team successfully demonstrated study feasibility in just over a week, and then started sequencing samples from all coronavirus positive patients in NHS Lothian.
Within two weeks, Thomas' team were part of a large UK Government funded scheme (the Covid-19 Genetics UK Consortium) looking at viral spread and diversity in real time across the whole of the United Kingdom.
Aims of the project
The project aims to sequence many viral samples (over 10,000 so far) from across the United Kingdom to use their genetic code to:
work out where and when different lineages of the virus were introduced into the UK
see how clusters of disease are spreading across the UK
check that the testing performed for the virus (part of the government's 100,000 tests a day strategy) will pick up all the different virus lineages
help to inform our understanding of what happens after the lockdown is lifted.
Team work
Thomas works in a split team, in case anyone is affected by Covid-19. This means he spends half the week in the laboratory sequencing, and the rest working remotely helping with tasks related to ethics, education, and data analysis.
In a truly cross-College effort, Thomas works with a post-doc and PhD student from King's Buildings, a post-doc from QMRI, a PhD student from the Roslin Institute, and two clinical scientists from NHS Lothian who already worked at the NHS laboratories.
"The team is enthusiastic, diverse, highly skilled and motivated, and it has been a real pleasure working with them" says Thomas.
Contributing both locally and nationally
Thomas adds: "It's been great to work on this project which has taken a group of people- from the University and NHS- with a wide variety of skills and built a service that contributes both to the national response to the pandemic, and also gives us a clearer picture of how the virus is spreading in Edinburgh and in Lothian.
We can also use viral sequences to look at outbreaks within particular contexts to help to understand these better."
Post pandemic
In August, Thomas will return to shifts and clinics as a respiratory paediatrician in the Royal Hospital for Children and Young People, while also continuing his RSV work with the World Health Organisation.
"It is likely that there will be a vaccine for RSV soon and the work we are doing will be important in guiding implementation of this vaccine," he says.
Final thoughts
"This pandemic has highlighted the importance of research and scientific data in driving the clinical response to the pandemic. I hope it will encourage clinicians to become involved in research, and reinforce to policy makers the importance of investing in research and public health" says Thomas.