Guest blogger Helen Szoor-McElhinney, EPSRC Proteus Engagement Strategist, on a project bringing local communities together with students to create new research around health and wellbeing.
Our Health projects create community-based research that invites local communities to set real-world research questions and agendas around health and wellbeing. The project is based on the 'science shops' model that is used widely across Europe to try to bridge research institutes and wider society.
The first Our Health pilot projects were launched in July 2018 and ran for seven weeks across the summer break. Undergraduate and postgraduate students from across all three colleges enrolled onto two separate projects and formed interdisciplinary teams with two community partner groups, the Cheyne Gang Choir and Breathtakers.
Cheyne Gang Choir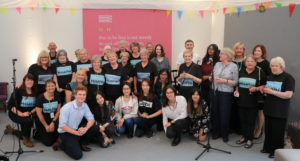 The Cheyne Gang Choir is an Edinburgh-based community singing group for people living with long-term respiratory conditions such as chronic obstructive pulmonary disease (COPD) and asthma.
The Our Health team were interested in exploring if the breathing techniques used by the choir actually impacted their lung physiology and improved their overall symptoms of COPD.
Anne Richie, co-founder of the Cheyne Gang Choir, said of the project: "The Cheyne Gang Choir were really pleased to form this research partnership. We became part of the research process and because we set the agenda and research question, we were motivated to work with the students to investigate and find answers together. We want to continue working on this question, we feel we have just begun, there is still so much we want to learn."
Breathtakers support group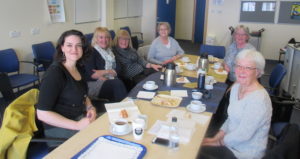 We also worked with Breathtakers, which is an Edinburgh-based support group who offer guidance and advice for  people who live with lung conditions such as bronchiectasis.
Our project specifically looked at how the language used between patient and consultant in the consultation room can affect how patients feel about their diagnosis. As part of the project, we discovered that by helping patients become more aware of their physical symptoms and emotions and the language they use to express them, they can play a more powerful role in their own diagnosis and ongoing care.
Support, evaluation and celebration
The project teams received academic support through a network of interested academics, doctors and health care practitioners, while I took on the main responsibility of student mentorship around community engagement and collaborative communication.
Throughout my evaluation of the projects, I was keen to capture the community partners' perspectives and experiences around the work. They told me that they had started to think of themselves as researchers because they had been fully welcomed into the research process by the student teams.
Then, in August, we shared our learning journeys with an invited audience of patient and community groups, students, academics and the wider public at a special reception hosted by The Edinburgh International Book Festival.
There was a very tangible thrill of excitement and possibility throughout the reception that something really worth celebrating had been achieved and that it could continue to grow if it was nurtured and valued widely.
The future
We are delighted by how positively the Our Health projects have been received by students, local community groups and colleagues across the University of Edinburgh.
As well as continuing the research we have begun with The Cheyne Gang and Breathtakers, we are currently working with university teaching staff to look at how we can involve more students in these rich learning experiences and help them gain credits for their community-based research.
Visit the Teaching Matters blog for more