Project 1: found objects. where it all began…
Project 1: found objects. where it all began…
Whilst exploring Edinburgh looking for objects, we stumbled across an antiques shop run by an old man who told us about his story. He opened his store in 1989 and been there ever since. He told us that many other people ran similar shops along the high streets but they all had to close down due to the increasing rent over the years and that he was one of the few shops left. We noticed a 'closing down' sign at the back of his shop and he told us how he too was no longer continuing with the store.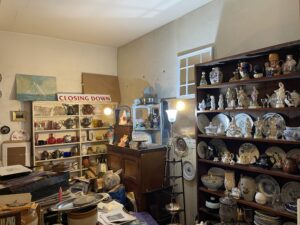 A week later, Eve noticed on her way back home that the store was no longer there and it had been boarded up.
Moved and slightly angered by this story, I decided to base some of my project on the destruction of individualism in the modern day. How small businesses are being taken over by larger chains, and how the high street is losing its 'soul'. I thought about destruction of culture, depth, personal service and a lack of appreciation for the arts as a whole.
One of my found objects was a book of sheet music named ' The New Viola Books' by Eleanor Murray and Phyllis Tate. It is dated printed in 1962.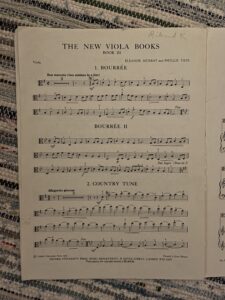 I started investigating this by firstly searching up and listening to the pieces in the book. I wrote down my initial reactions to each piece, e.g. Nocturne – slow, sad, low mood, deep, mourning, whiny. Scherzo – jumpy, repetitive, melodic, fairytale soundtrack.
I linked this to the decreasing of the arts by playing around with iMovie and GarageBand to create a short experimental film. I went outside and set fire to a page of the sheet music whilst filming it as it was reduced to ash. I chose to use 'Nocturne' as the sound, editing it to become more monotone and less angelic as the sheet music is burnt. This represented the destruction of creativity in the changing world. (movie linked below)
As well as this, I used the sheet music as a background for a collage, where I slid a broken CD around in a photocopier to create a warped effect. It creates an illusion of melting and, again, destruction.