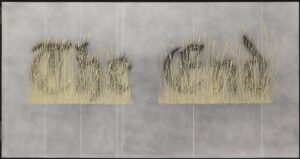 ---
I saw Edward Ruscha's work in the Gallery of Modern Art a few years ago and to be honest I didn't think much of it at the time other than enjoying the size of the canvas he had chosen to write a single or few words on. Doing a little more research now, I like his work no more than I did before but I find what he says about the way he works and why he has chosen to focus on text very interesting and inspiring.
"no size"

"not bound by reference"

"non verbal way of referencing something that is not really making any noise at all"

"setting the tone for a given subject"
These are just some of the quote I wrote down while listening to a few talks and interviews from Ruscha while speaking about his work.
He mentions that he likes words because they are not bound by any size reference and he can make the decision whether it be small or huge. This is something I like about light, the fact it has no one form.
His work is a way of drawing focus to something that has no sound and he does this by creating text pieces that are often quite loud in my option. This is something I find really beautiful to think about and I can relate it back to what I aim to do, by giving form to something that has none.