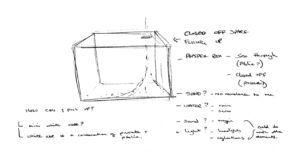 For this project we were asked to chose a specific space to work from (social, virtual, intervention etc) and I chose site responsive, the site being my flat/bedroom.  This idea of blurring the lines of private and public made me consider the white cube as a space also as the traditional gallery space is a public space but also has an elitism quality and history attached to it making it a 'private' space to many.
This lead to my initial idea of having a perspex box that is see through and having something from the outside spilling into.
- The clear box representing the white cube, clear being the public element but the box being closed off showing its private or protected. 
I liked this idea and what it represented but I didn't want to make something additional to add to the space but rather respond to what's already there or what was taken.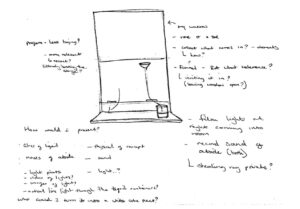 I then came up with the idea of recreating the situation the way it was the night my items were stolen from me (setting the stage). This felt more relevant to me than creating something to add to the space, I liked the idea of extracting from what was already there and drawing focus to it.
I decided to do this when we had heavy snow in Edinburgh. The idea was to have a funnel attached to the outside and have it coming into my room while the window was ajar. This to me, was to show a physical element from the outside coming into my space through chance. By placing the funnel there was the equivalent to leaving my window open. snow may or may not have landed in the funnel the same as to someone may or may not steal my jewellery.
The snow also represented loss, ephemerality and hindsight as I knew it would melt and would only get to enjoy it as it first was for a short amount of time.
A feeling of loss I now associate with my stolen items.
I had done this and documented the before and after of the snow filling up a portion of the jar along with videos and sound clips of light coming int my room and sounds from the outside recorded from inside my room but unfortunately all this documentation was filmed on a phone that I completely broke 2 days later before uploading it to my blog.
I still have the jar of melted snow but I recreated the scene with rain water afterwards.