My Visit to Blackford Hill
My Visit to Blackford Hill
The first stage in developing my Geoscience Outreach and Engagement project was to become familiar with my client and learn which areas I can contribute to. With the knowledge that I was going to create educational resources to engage nursery children with the natural environment and local biodiversity, I agreed to join one of the Arcadia nursery trips up to Blackford Hill in December. Many of the field trips for my degree took place around this area, therefore I am familiar with the area and feel confident navigating my way around.
I set off for Blackford Hill and met two members of staff and the children on a late Wednesday morning. The groups are kept fairly small which gave me the perfect opportunity to get to know everyone and find out what their interests were. I soon discovered their love for the outdoors and how much they enjoyed spending time in the woods. There was no set structure to the day which I really liked as it meant that the lessons and activities I would develop could be adapted dependent on the weather or what the children wanted to do. Given the stress of fourth year, I really valued interacting with the children and getting outdoors as it was refreshing. After talking to one of the staff members, I discovered the children had done a little bit of mindfulness outside where they would listen to the sounds of the forest such as the river running or the birds chirping. I took part in a mindfulness course in third year and so thought this provided a perfect opportunity to include some mindfulness activities in my project to really engage the children with nature.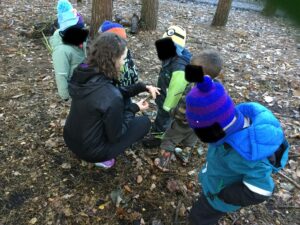 .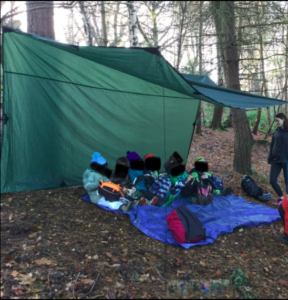 Showing the children some leaves and having lunch under the tarpaulin. Images by author are licensed under CC BY-SA.
It was clear that the children were already familiar with Blackford Hill and showed real interest in learning about different species. They had already done some lessons on the environment and various animals, but the staff had mentioned that it would be great to get some more in-depth knowledge about various species around Blackford Hill. I knew that not every child would share the same interests so I asked some of them individually what they enjoyed learning about in nature. When developing resources for children it is important that they are engaged and that the activities are fun, so I knew that I had to prioritise this in my project. I could then develop my interim report where I began pulling together different resource ideas that would educate the children on local plant and animal species, the different seasons, hibernation, habitats and mindfulness. I had done some research on Forest Schools in Edinburgh such as the Outdoor Nursery  (https://www.outdoornurseryedinburgh.com/) where all of the teaching is outside, therefore my aim is to encourage children to enjoy spending time in nature whilst learning about it. I have agreed to attend more of the day trips to Blackford Hill in semester two which will not only help me get the most out of my project, but will provide great experience working with the children outdoors.