The Last Leg
The project is now in the final stages of development. The time has flown by but I have thoroughly enjoyed seeing all of the components that were once mere scribbles on paper come together.  Although I was at first worried about balancing my dissertation with the project, it has worked out really well for me and has encouraged me to be more organised and efficient. After completing the plans for all of the activities I had originally proposed, I chose to include an extra activity on freshwater animal sampling after the staff at Arcadia agreed it would be a great idea. This again allowed me to apply skills that I had learned previously from my degree, integrate knowledge from the workshops and share my enthusiasm for wildlife. I found that whilst I was creating the resource and compiling all of the information for the activities, I could visualise the children up at Blackford Hill completing them. I think it is powerful to be able to imagine the lasting impact that the project will have, hopefully long into the future.
I accepted that there would be challenges I would face and limitations to the project mainly due to the pandemic. Creating an online resource, however, has the advantage of being easily accessed at any time and so this reassures me that the activities will go ahead once restrictions ease.  Having now established a relationship with the staff at Arcadia, I hope to remain in contact so that I can gain feedback from both them and the children via the evaluation questions. The resource could potentially be distributed to other nurseries or even primary schools around Edinburgh which would spread environmental awareness and facilitate nature connections on a wider scale. This was one of the long-term aims of the project.  It could also inspire other projects and encourage more outdoor learning approaches to be integrated into Scottish education . I have received continuous feedback and guidance from my supervisor and tutor who have kept me grounded and on track with the resource development. Their support has ultimately helped maintain positivity and has allowed me to get the most out of the project.
As the end of this semester, this course and my university degree approaches, I reflect on the progress I have made and the experience that I have gained. Geoscience Outreach and Engagement has equipped me with key skills needed for educational resource development, client communication and public engagement. I believe the project reflects my passion, confidence and enthusiasm towards working in outreach whilst continuing to empower people to make change both locally and globally. Completing the project is- in my eyes- a major achievement…a bit like climbing to the top of Blackford Hill!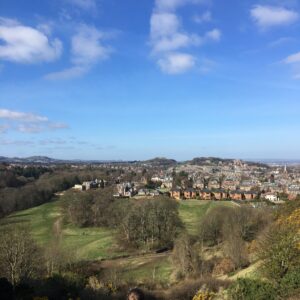 Views from Blackford Hill. Images by author are licensed under CC BY-SA.