The Soften The Glow
Three Shadows presented "The Soften The Glow" an exhibition created by the artist Shao Wenhuan in the SMArt residency program in Switzerland.
The Glow, 100x300cm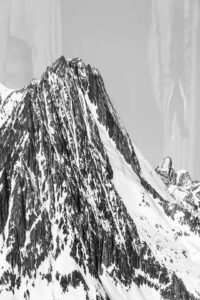 Part, The Aletsch Glacier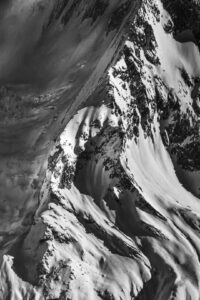 Part, Peaks, Photography
Continuing this creative clue of the "landscape" in the natural world, the artist Shao Wenhuan was invited by the SMArt project initiated by Switzerland's Foundation for Sustainable Development in Mountain Regions. The magnificent Swiss mountains focus on the iconic natural landscapes of the Alps such as the Matterhorn and the Aletsch Glacier. The comprehensive artistic method using photography as the main medium reflects the deep "natural crisis"- a motif with global significance..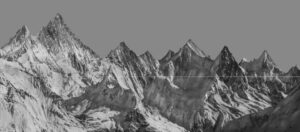 Peaks, 110x250cm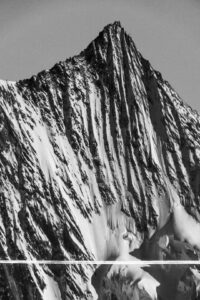 Part, Peaks
For Shao Wenhuan, shooting is only a step in the process of comprehensive creation. Through a large number of different focal points, a complete image that looks like perspective (reality) is combined, and hundreds of moments are hidden in one frame, as in 19 The divine depiction of grand scenes in romantic paintings of the century. In addition to collage, he also uses a variety of artistic methods to interfere with images: painting, scratching, tearing, rubbing, stains, etc., which appear in his creation-superimposed on extremely rich natural and artificial details. He also reserved quiet white in the image, and even used ink to fill the sculptural glacier with thicker black. These "scars" appearing in the "picture" or "nature" seem to indicate the "pain" hidden in the landscape. In the "Galaxy Box" series that the artist continued to create, Shao Wenhuan constructed the programming light box into a rectangular space structure in remote Switzerland to load the night sky of the Alps. The light of human intervention-the flicker of light and extinguishment pierces the tranquility of the mountains and rivers, while the landscape is constantly disillusioned and reborn in the afterimage of the persistence of vision formed by the human eye. Whether it is the shadows of the mountains and forests or the brilliance and dust in the starry sky, these visual spectacles beyond the "experience" that Shao Wenhuan has created by mistake are sometimes anxious and sometimes fascinating. The scratches of mechanical violence have formed a poetic irony under the theme of the exhibition "The Soften The Glow", just as people change their own existence and accelerate the acquisition of natural resources, causing a gap between direct and indirect damage to mountains and rivers.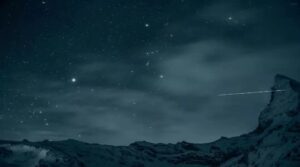 Galaxy Box, No. 08, 17x29cm, 2019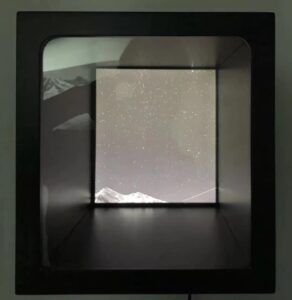 Galaxy Box, No.06, photography programmed LED lightbox, 24x22cm, 2019