This is Part 10 of a 10 part mini-series.
---
This Blog is the final installment of a 10-part series looking at developing major research bids.
Last week we looked at the outline proposal and funder interview stages of the major research bids application process, specifically the purpose of these stages, what to expect, and strategies for maximising your chances of success.
This week we shine a spotlight on a series of recently published case studies focusing on experiences of developing major research bids. Researchers, research professionals and funders share their tips for crafting a winning bid, offer advice to those starting out on their major funding journey, and highlight the pitfalls you should avoid.
---
Case Studies
Successful major research bids are built on teamwork. Prof Dave Reay, Professor of Carbon Management and Education, explains why teamwork is the key to major research bid success, offers tips for aspiring major bid award holders, and reflects on his role as Director of Policy at CimateXChange.
Project management for major research bid success. Dr Jennifer Cusiter, Head of CMVM Research Office, explains her recipe for success in project managing major research bids, the value professional staff bring, and the importance of accepting help.
The dark art of major research bids. Dr Kirsty Collinge, Strategic Research Executive, warns against the dangers of extreme procrastination, avoiding difficult conversations, and misplaced intentions for wanting to join the big grant club.
Funder perspectives of major research bids. Alex Peden, EPSRC Head of Regional Engagement, Scotland, advises on when and how to engage with funders, what makes an application stand out, and future trends in large-scale funding.
Placing people at the heart of major research bids. Dr Theodora Lola-Luz, Senior Research Development Manager, School of Biological Sciences, describes her one-stop-shop approach, how she has grown professionally, and why flexibility is the key to success.
Head over to the case studies page of the major research bids toolkit to read the interviews in full.
Research Leadership
Interested in the leadership skills and qualities needed to tackle big research questions? The case studies page of the major research bids also has video interviews with senior research leaders.
Leading people for research success. Prof. Wendy Bickmore, Director of the MRC Human Genetics Unit, reflects on her research career and leadership journey, including the lessons learned along the way and what she wishes she would have known at the start. She also explains the importance of engaging with funders to achieve mutually beneficial outcomes, and how the key to success lies in surrounding yourself with the right people.
Leading at the edge of boundaries. Prof. Neil Pollock, Professor of Innovation and Social Informatics, University of Edinburgh Business School, reflects on his leadership journey as an interdisciplinary researcher and shares his strategies for long-term funding success. Neil also describes the challenges interdisciplinary researchers face in building their identity and influence, and shares his tips for overcoming these.
---
Keep up to date
This 10-part Blog series on developing major research bids is available in its entirety on the Edinburgh Research Office Blog. It can also be downloaded from the homepage of the major research bids toolkit. Make sure to bookmark the major research bids toolkit homepage for easy access to the materials highlighted throughout this series, and to stay up-to-date with the latest major research bids content.
About the author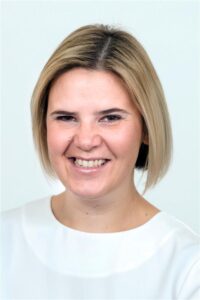 Dr Kirsty Collinge is a Strategic Research Executive within Edinburgh Research Office. She is the lead author of this Blog series and has developed the accompanying major research bids toolkit. In addition to developing and reviewing a variety of major research bids, Kirsty has experience of setting up and coordinating high-value multi-partner projects. Having worked as a post-doctoral researcher on a large-scale interdisciplinary project, she also appreciates and understands the academic context in which major grants operate.
Share