In this guest blog post, Eleni Kotoula, Lead Digital Research Facilitator within Digital Research Services shares information of support available for staff and students at the University, and gives details of upcoming events and training.
---
Getting to know Digital Research Services
Digital resources and technologies are being increasingly used throughout the research lifecycle for planning, storage and organisation, analysis, management, preservation and sharing of research data and outputs across disciplines and domains.
As a research student, researcher or professional staff supporting research at the University of Edinburgh, you might have come across digital research services, but are you aware of the wide range of services, resources, tools and support available to you?
Have a quick look at our brochure for a brief overview of Digital Research Services, relevant resources and activities at the University of Edinburgh. For more information, key features, links to wiki pages and contact details for each resource visit the Digital Research Services website, the single point of access for all data and computing services, organised based on the research lifecycle stages. The services, from cluster computing to data management, are enabling world-class research and are used to support discoveries, perform analyses that would not be possible otherwise, improve research outcomes, and share results.
---
Upcoming events: Sep-Dec 2022
The programme is designed to help members of the University of Edinburgh community familiarise themselves with Digital Research Services and make the most of them
The inclusive programme offers opportunities for different levels and types of engagement and is not restricted to those with a computational background.
---
The Lunchtime Seminar Series is ideal for those interested in the fundamental aspects of the digital research lifecycle. Professional staff supporting Digital Research Services provide introductory level presentations and guest speakers present on relevant projects. . After more than two years of largely working online, we are keen to meet new members of the University community and catch up with colleagues in person, so we invite attendees to join us prior to each seminar for refreshments.
The Digital Research Early Career Researcher forum is a good starting point for those who share an interest in digital research and would like to get support, exchange ideas and boost their digital research skills. This forum is open to all ECRs, including final year PhDs, looking for their next step. Meetings will take place monthly at the Digital Scholarship Centre, Main Library, 6th Floor.
The Digital Research PechaKucha is a fun and engaging event in a fast-paced format, with 20 slides and 20 seconds of commentary per slide. It offers an opportunity to boost digital research skills and be inspired. Presenters, across colleges and the Information Services Group, will approach digital research broadly from different perspectives. This event will take place at the Digital Wall area of the Main Library, on 1 December 15:00-16:00.
Our Digital Research Services Ambassadors Internship Scheme can help postgraduate research students with strong digital research skills get hands-on experience while researchers and research teams can get extra support and amplify their research efforts. Join us in late October for an event dedicated to this internship to find out more about the research work completed last academic year and celebrate the achievements of our interns with us.
---
View the calendar in our Digital Research Services Facilitation SharePoint and follow us on Twitter to stay in the know about upcoming events and training sessions. Join our mailing list and don't hesitate to get in touch at digitalresearchservices@ed.ac.uk.
Digital Research Services Facilitation SharePoint
Digital Research Services | Join mailing list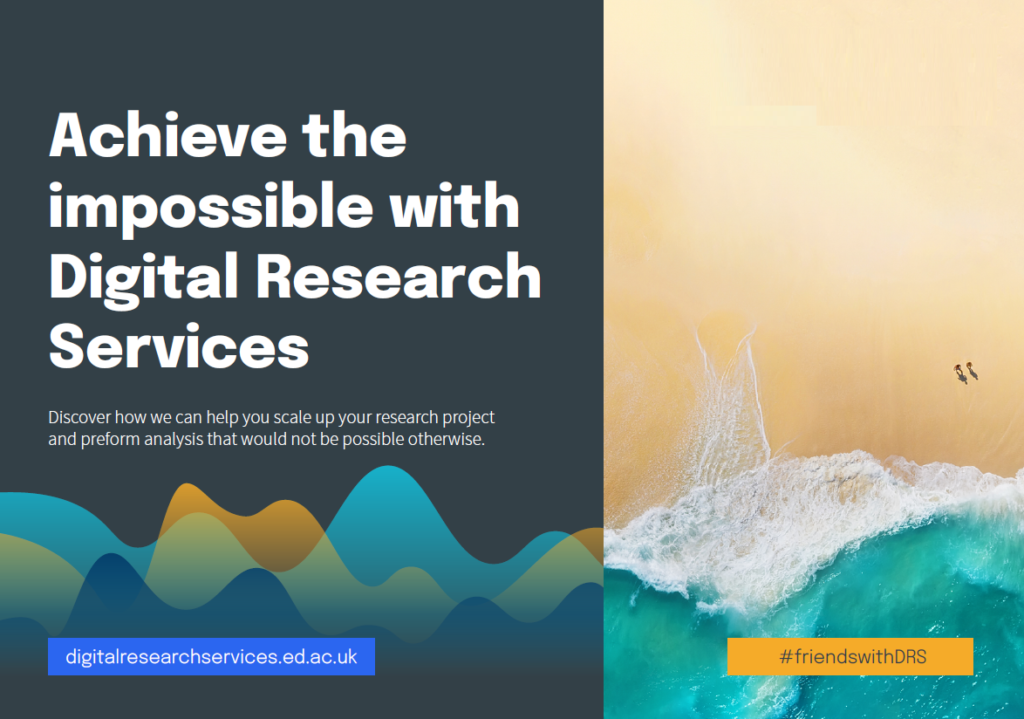 Share