In our latest blog, we hear from Laura Cockram in the Knowledge Exchange Team, who is just back from a six-month secondment to the Scottish Parliament, where she worked as part of the team of clerks who facilitate the Social Security Committee.
Engaging with a Committee at the Scottish Parliament is an opportunity to make an impact on legislation tackling some of the most pressing issues in Scotland. Today, I will share my tips on how you can best engage with the Parliament's Committees. I will (hopefully) demystify the legislation-making process, and explain how you can engage as a Bill makes its way through the Parliament.
Engaging as an academic with the Parliament's Committees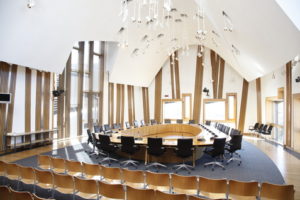 The Parliament's role is to scrutinise legislation and to hold the Government to account. It is the role of each Committee to scrutinise Scottish Government policies and expenditure on matters relevant to that Committee such as education, health or justice. Committees can scrutinise Government proposals; hold inquiries; examine legislation; take evidence and consider petitions. There are currently seventeen Committees and there are normally between five and fifteen Members of the Scottish Parliament (MSPs) on to each Committee, appointed with regard to the balance of political parties in the Parliament. Committees seek to engage with a wide range of stakeholders – third sector organisations, people with lived experience, professional bodies and, of course, academics. Your academic expertise is valuable: it informs Committee members and helps them to fulfil their scrutiny role more effectively. Providing written or oral evidence to Committee inquiries is probably the most well-known route to engaging with the Parliament. If you are thinking about doing this, there are a few key points to bear in mind:
The MSPs on the committee are looking for help in framing or understanding an issue. Your expertise is valuable when you apply it to the problem the MSPs are grappling with.
MSPs are looking for you to give your opinion on how you think a problem can be solved, or better understood.
Ensure your submission responds to some or all of the questions asked in the call for evidence, and keep it concise.
The Committee Clerk is the person you need to make contact with; they manage the process. Their contact details are available on Committee webpages.
Researchers can also play a role in shaping a Committee's work programme. At beginning of a Parliamentary session, and periodically throughout the session, Committees look at their work programme, and Clerks look for expert input into shaping the Committee's work. Some Committees have expert advisers.
Clerks are also happy to hear from you if you are doing research that is relevant to the Committee's remit more broadly. If you have produced a research briefing or have ideas about how an upcoming inquiry could be framed, get in touch.
In terms of when to get in touch, bear in mind that Clerks are busy when the Committee is scrutinising a Bill at Stage 1 and Stage 2 (keep reading for an explanation of these terms). On a week to week basis, Clerks are busiest the day before and day of the Committee meeting.
Understanding the legislation process
The Committee I worked for was scrutinising the Social Security Bill. This is a very significant piece of legislation which devolves 11 benefits, equating to £2.9bn of spending, to Scotland. Find out more about this Bill.
At the Scottish Parliament, a Bill goes through three stages before it becomes law.
Stage 1 – Committee inquiry and recommendations
Stage 1 is when the Committee considers the general principles of the Bill, with input from stakeholders gathered via an inquiry. Anyone can submit written evidence; you don't have to be invited to do so. For the Committee inquiry on the Social Security Bill, over 100 individuals submitted written evidence. 32 people were invited to give oral evidence and four of these were academics.
At the end of Stage 1, the Committee produces a report with its views and recommendations, which are informed by the evidence heard during the inquiry. This report recommends whether the general principles of a Bill should be agreed; therefore enabling it to proceed to a Stage 1 debate, which is when the whole Parliament debates the Bill for the first time.
Stage 2 – changes to strengthen a Bill
Stage 2 is when changes are made to the Bill via amendments, which are lodged by MSPs. Again, stakeholders can inform this part of the process. If you think a Bill can be improved, you can suggest ideas to an MSP, as can any citizen. It's worth knowing that any MSP can submit an amendment; they don't have to be a member of the Committee. It's also worth knowing that you do not need to be able to write the amendment – there is an expert legislation team in Parliament to do that.
The Stage 2 Committee meetings take the form of 'mini-debates' as amendments are grouped by topic. If an amendment is not agreed unanimously, a vote takes place. Significant changes can occur at Stage 2 – either from amendments tabled by an opposition MSP or from Government amendments tabled in response to recommendations in the Committee's Stage 1 report.
Stage 3 – the Parliament's decision
Stage 3 is a final debate by the Parliament and a decision whether the Bill should be passed or rejected.
Secondary legislation – the devil is in the detail
The story does not end here. Secondary legislation is where much of the detail of new legislation is debated and decided. All of the detail about, for example, disability assistance, will be scrutinised by the Committee as and when the Government lays it before the Parliament. As part of this scrutiny, the Committee may, again, hold an inquiry.
Influencing the Government, before legislation is brought to the Parliament
Finally, if you are interested in influencing the formation of legislation (i.e. before it is scrutinised by the Parliament), it is worth familiarising yourself with the Government's legislation programme. If there is Bill you want to influence, find out who is on the Government Bill Team, and whether there is a Government consultation process. This will happen before (or sometimes concurrently with) the Parliamentary Committee inquiry and is a separate process.
Want to know more about engaging with the Scottish Parliament?
Contact the Knowledge Exchange Office if you are interested in engaging with the Scottish Parliament, or the policymaking process more broadly. We are here to help provide support and advice to you, whether you have never engaged in this work before or have some experience already.
Links
How to…Connect with policymakers

Scottish Parliament Committees

The Government's Programme for Scotland 2017/18

The Scottish Parliament Dialogue tool (sometimes used during inquiries)
Example of an academic giving good quality evidence to the Social Security Committee (Prof. Gráinne McKeever, Ulster University Law Clinic)
Laura Cockram is Knowledge Exhange and Communications Adviser in the Knowledge Exchange Team of the Research Support Office.
More from this author
Share